Latest updates coming to isolved People Cloud!
Important changes to isolved People Cloud going live on Friday, October 20
WORKFORCE MANAGMENT
Employee Calendar
The Employee Calendar, Time Off Request screen has been updated to show the "Available After Request" section better and clearer to the User. The screen accurately shows the remaining balance after the request and considers any other "Pending Time Off Requests" that have not been Approved for the User.
Old view: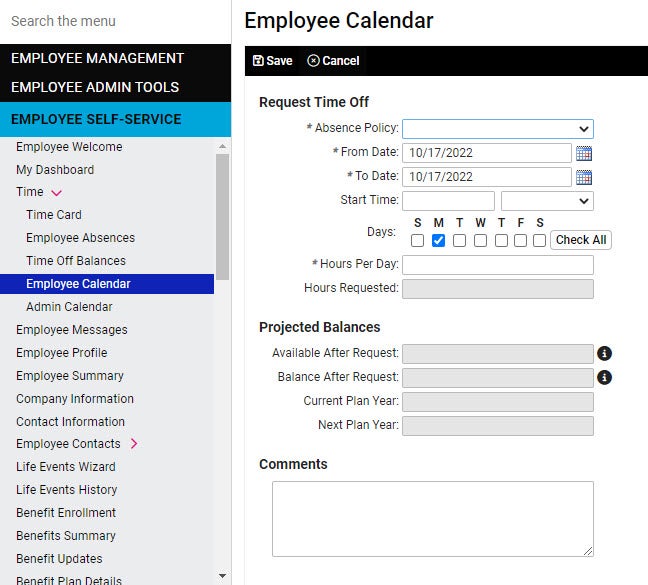 New View: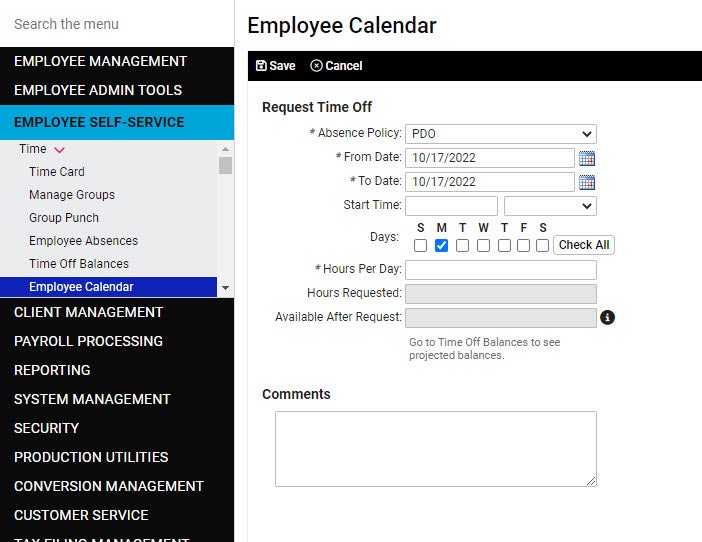 HR & PAYROLL
Time Entry Grid Transaction Update to the Employee Change Log
We have added Pay Transactions Audit for Deleted Transactions on the Time Entry Grid and Individual Time Entry to the Employee Change Log. A record will be included for each deleted transaction. Navigate to Employee Admin Tools > Employee Utilities > Employee Change Log and select the applicable employee to see what changes were made, when they were made, and who made them.

New Employee Analytic: Training
There is a new analytic dashboard with this week's release! The Training analytic screen displays the training records on file and other key information, with (of course!) the grouping, sorting, filtering, column chooser and export file options that we have grown to love with the analytics.

APPLICANT TRACKING
Option to Auto-fill Employment with Resume
Area: Career Site Application
In an effort to reduce the time it takes applicants to complete the application, we now have the option to allow applicants to use their resume to autofill the employment section and fill out any other missing fields in the employment section. This feature will be enabled by default for all clients in October. If you would like to enable it sooner, please contact support.
Changes to Job Board Job Title Field
Area: Job Listings
We have added a new Job Board Job Title field to the Job Listing form. This field is the job title that will be passed to the job boards. The Job Board Job Title field will no longer allow certain terms related to pay, or numeric or certain special characters. This information can be included in the Job Ad Description for your listing. If you would like to include information like pay, locations or internal numbers within your job title, you can still include those details in the Career Site Job Title field that displays on your career site.
This update aligns with job board best practices and guidelines and will ensure the highest visibility for your job listings on the job boards. Please know that while job boards may not have a strict policy against certain terms or characters in the job title field, including those items is not a best practice and can harm your jobs' SEO on the job boards. In return, you will not yield as good of results in job seekers finding your job in a search. What this means is that similar job titles without numerical values, locations, or pay information will perform better in searches. Locations, internal IDs, etc. should be placed in the Job Ad Description field.
Job ID to Display in Job Lists
Area: Requisitions
We are now showing the ATS system Job ID appended to the Job Title when viewing job lists in filters and drop-downs the ATS. This will help in differentiating jobs with the same job title. If you are using a unique Internal ID field on your jobs, your internal ID will display after the system Job ID.
eForm Overview Report
Area: Standard Reports
We have a new eForm Overview report. You will be able to see pending, approved, and denied eForms, along with the candidate and approver information.
isolved - Manager/Supervisor List
Area: isolved Onboarding
When sending new hires to isolved onboarding, you will now see more users to choose from in the Manager and Supervisor drop downs. The list now includes all companies and legals in isolved. This allows you to choose a wider range of watchers.
isolved - Resend Documents Updates
Area: HR Fuse
We are creating an improved way to resend documents and forms from isolved Hire to isolved HCM. You will also be able to see which documents have been sent, when they were sent, and if the send was successful.
Please login to isolved and navigate to your landing page quick links for a full list of maintenance updates in our 8.20 release.


8.21 Sneak Peek
We are still working on featured items for release on November 4th. Please watch for the next newsletter with more details!
WORKFORCE MANAGMENT
Virtual Clock
Effective with the November 4th release, the new Virtual Clock UI that was released on October 7th will be the only Virtual Clock UI available moving forward. Users will no longer have the ability to return to the classic view.