Latest updates coming to isolved People Cloud!
Important changes to isolved People Cloud going live on Friday, December 16
Benefits/HR
More Jobs Updates
Your jobs screens got their makeover with release 8.23 on 12/2. Now, in our 8.24 release, you can update the Occupation Start and Industry Start in the Client New Hire Wizard on the Job and Labor screen.

In addition, the newest Jobs fields have been added to Report Writer, so you can add even more depth to your Report Writer reports. The fields that have been added are:
Industry Start Month
Industry Start Year
Job Level Code
Job Level Title
Occupation Start Month
Occupation Start Year

Please login to isolved and navigate to your landing page's Quick Links section for a full list of updates in our 8.24 release.

Platform
Predictive People Analytics
The 12/8 release for Predictive People Analytics brought us some great new features.
Predictive Guidance allows the user to set a target result wherein the system will recommend multiple methods to achieve that result.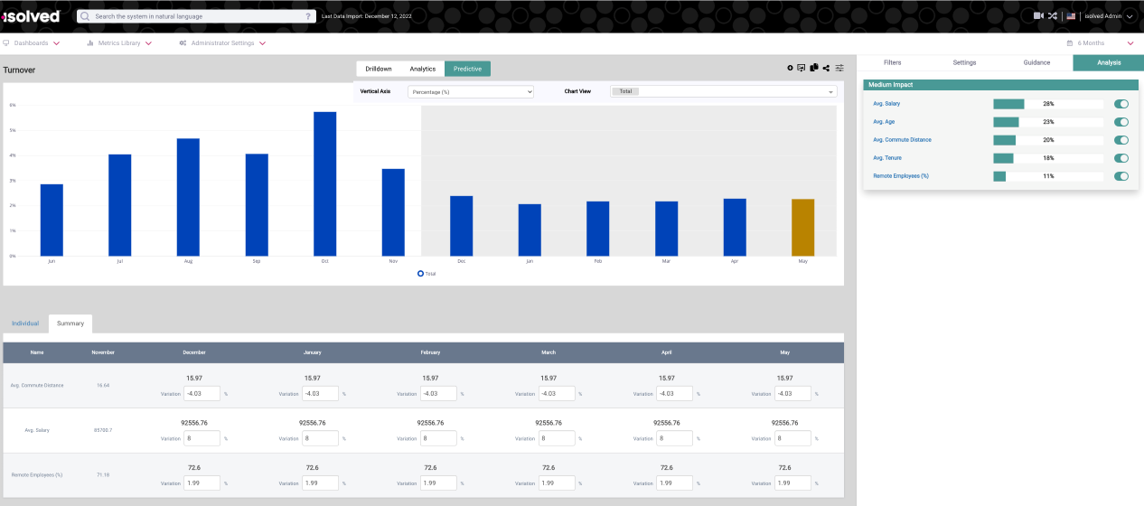 Enhanced Predictive Analysis shows in more detail what factors are affecting future trends and allows turning on and off empty factors.

What else is new?
Add the 5 Fiscal Year Timespans in the Prective Page dropdown timespan.
Add hired candidate population to the formula feature.
Fixed bugs:
Creating a data configuration field labels not ordered.
Add "Native American or Alaska Native (Not Hispanic) to the Diversity OOB Benchmark.
Talent Acquisition
Applicant Tracking
NEWLY RELEASED FEATURES & UPDATES
Our teams have been busy creating new solutions within the ATS to improve your hiring process! The following is a list of all the new features and updates that we have recently released. We have included links to user guides and FAQ documentation where available.
SOURCING
New Background & Drug Screening Policy Disclaimer field on Job Listing
Area: Job Listings
A new option was added to your Jobs Settings and Job Listing area that allows you to create a Background & Drug Screening Policy Disclaimer to communicate your company's background screening policy to applicants. When creating a Job Listing, you can easily choose which disclaimer you want to pull into your job ad. This information will only be displayed on your career site below your job listing description. To prevent your job from receiving lowered visibility, it will not be included with your job ad on the job boards.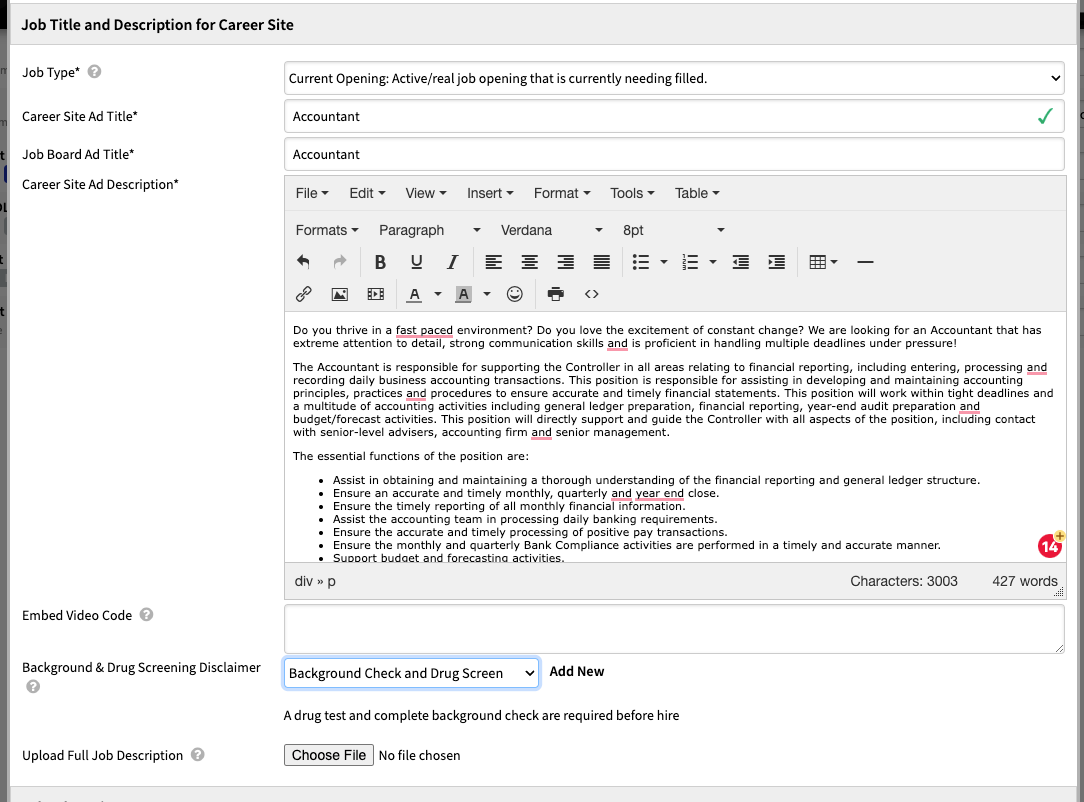 Upgrade Talent.com Quick Apply Integration
Area: Job Boards
Your job questions are now being asked from applicants that apply using our Talent.com quick apply integration. This will help you get more information from applicants who apply on Talent.com. If you would like to include Additional Questions, Applicant Statement, and or EEOC questions please reach out to support or your Account Manager to alter the Quick Apply settings of your Application Setup.

SCREEN & SELECT
Enhanced Requisition Overview Report
Area: Standard Reports
We have added additional data fields within the Requisition Overview Report. You can also now print requisitions and their associated job descriptions from within the report.
Requisition ID Search Capability
Area: Requisition Dashboard
In the Requisition Dashboard, you can now search using the requisition ID.
INTEGRATIONS
isolved - Auto-tag Unhireable Applicants
Area: HR Fuse, isolved
If an employee is not marked as 'eligible for rehire' in isolved HCM, a tag will appear in isolved Applicant Tracking that will also show them as 'Unhireable'.

UPCOMING FEATURES & UPDATES TO BE RELEASED
Our product managers have mapped out their roadmaps for the next 30 days. The following is a list of what we have coming up. Please keep in mind that while we will do our best to release these updates in the next 30 days, it can take longer depending on constraints.
SOURCING
Allowing numbers in Job Listing Title field
Area: Job Listings
We will once again be allowing numbers in the Job Listing Title field. We do not recommend using numbers in the job title field. Doing so will limit your job's visibility on Indeed and other job boards. All pay information must be included in the job ad to avoid hurting your job's visibility on the job boards.
New Job Board Favorite Suggestion Flow
Area: Job Board Favorites
The Job Board Favorites area will be updated to facilitate easier searching for available job boards within our job board library.
Text to Apply Now Including Locations in Job Title
Area: Text to Apply
To help applicants apply for the job best suited for them, we will be making the job location visible to text-apply applicants. The location will be displayed within the job title.
Indeed Sponsored Update - Account Connection
Area: Indeed Sponsored
If you have not yet connected your Indeed account through the Indeed Sponsorship process, you will no longer see the Indeed applicant estimator tool. Once your account is connected you will be able to see and utilize the Indeed applicant estimator tool for sponsorships.
SCREEN & SELECT
Update to Application Statuses
Area: Settings, Statuses
We are working on an update that allows you to assign your application statuses to a parent status. This will allow you to separate your application statuses from your disposition reasons within the application status setup and allow you to report on them separately in the Report Builder. Both the parent - child status will appear in the application status drop down, making it even easier to see if the applicant has been dispositioned completely. This update will be enabled for all accounts in December.
eForm data available inside report builder
Area: Report Builder
We are adding eForm data as an option within the Report Builder. You will soon be able to create custom reports that include data from your eForm fields.
Requisitions - Editing user's name now displays
Area: Requisitions
We currently only show the date and time when information is changed inside of Requisitions. We are working on adding the name of the user who changed the information.
IP Address Blocker
Area: Applicants
We will soon have the ability to block specific IP Addresses from applying to a new Job Listing. Applicants applying from the blocked IP Address will not be able to apply to new or future Job Listings for that specific Career Site. This will need to be set up by support or your account manager.
Application Status Notification
Area: Applicants
You will soon have the ability to set up your application statuses to automatically notify users via email when it is assigned to an applicant.
Ability to reorder tabs when viewing application
Area: Applicants
This new feature will allow users to reorder the tabs when viewing the application in the ATS, so that they can be put in an order that makes the most sense to your process.
INTEGRATIONS
isolved - SSO
Area: isolved Integration
We are building the ability to single sign-on between isolved Applicant Tracking and isolved HCM. This will allow for navigation between the solutions to be more streamlined.
isolved - Required fields
Area: isolved Integration
This new feature will allow fields that are required in isolved HCM to also be required in isolved Applicant Tracking.
isolved - API update
Area: isolved Integration
This is an update that will allow for the Manager/Supervisor dropdown in the ATS to display a larger list of individuals for users to choose from.
8.25 Sneak Peek
We are still working on featured items for release on December 30th. Please check the next newsletter with more details!
Workforce Management
Timecard Objections Added to Verification Rules
In our 8.25 release, those who use isolved Time & Attendance can implement Timecard Objection for Employees. Employees will have an opportunity to object to their timecard and must enter comments as to why the information is not accurate.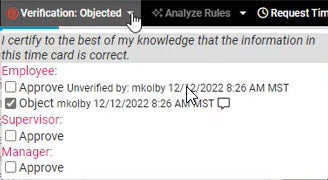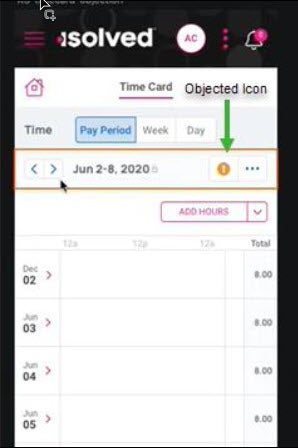 Managers/Supervisors can be notified by Email/AEE to address concerns the employee may have, if employees object to the timecard contents. Managers/Supervisors can update the timecard based on the details of the objection. Once the timecard is modified, the employee will have an opportunity to Verify or Object the timecard again. Managers/Supervisors can Approve an objected timecard and will not affect the objection.
Client Users can add a verification alert of Critical/Warn Me/Ignore to the objection. Both the Verification Export and Verification Audit Export have been updated to include the new Timecard Objection Status.