isolved believes in putting people and their privacy first. We value our customers' privacy and trust and work hard to handle your data and the integrity of it with absolute care. We understand what's at stake and will always operate in a highly secure and professional manner when handling your information.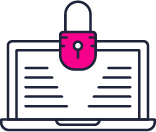 isolved understands our responsibility to safeguard personally identifiable information (PII), protected health information (PHI) and other nonpublic personal or financial information of our customers, their employees, brokers and participants from any unauthorized access or use. We take this responsibility seriously and we will never knowingly use customer data for purposes, including the sale of data to third parties, other than those clearly defined within our privacy policy and agreements for any reason, except as required by law.
As a third-party administrator, isolved maintains limited access to the data we process on your behalf in connection with our products and services including isolved People Cloud™, and we do not access your data for any reasons unrelated to the operation and maintenance of our products and services. Instead, we provide our customers with the necessary control over their own data, including the ability to access it in order to meet data privacy and compliance attestation requirements.
isolved and isolved People Cloud - running on Microsoft Azure - maintain the highest industry standards and best practices, taking into account privacy laws at the Federal (e.g., HIPAA as amended by HITECH) and state (e.g., California Privacy Rights Act or "CPRA") levels.
The level of trust we enjoy from our customers today comes from many years of safely and securely providing our products and services and our ongoing commitment to maintaining and continuously improving our privacy controls. Technologies continue to change such as with touch-based technology.
Touch-based technology privacy statement:
isolved Time Solutions utilize timeclocks that may include touchpads. The touch-based technology utilized through touchpads does not capture fingerprints. isolved does not capture, store, possess, or use fingerprint data. isolved complies with applicable retention and destruction requirements as defined by law. Read the full privacy and policy statement
The isolved privacy controls and processes, which cover protected data received in any tangible and/or digital medium by isolved are recorded within our Privacy Policy.