Florida's Largest, Not-for-Profit Agency Serving the Developmentally Disabled Moves to Bimonthly Pay in Less Than 1 Month — After 50+ Years of Paying Employees Monthly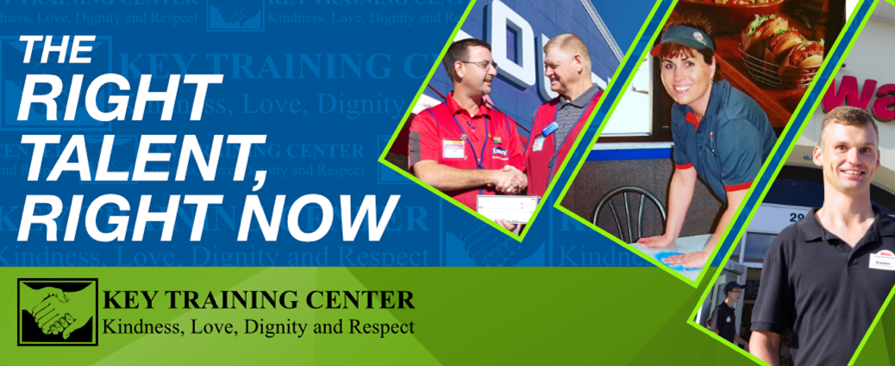 Founded in 1966, Key Training Center combines support with self-reliance to open opportunities for people with developmental disabilities. Despite its HR leadership changes and affinities to UKG, isolved retained Key Training Center's business and reignited its isolved loyalty through enterprise-grade HCM software solutions, educational services, employee savings and an exceptional partnership.
Key Training Center enhances the life of clients with disabilities through group and independent residences, supported employment opportunities and life-skills training to help individuals achieve their full potential.
Getting Full Use of a "Cadillac" HCM Software Solution
For more than 50 years, Key Training Center has helped thousands of men and women with developmental disabilities gain independence through hands-on learning, residential living and employment opportunities.
The model works for residents and their families alike.
In the background of this success is the ability to employ, enable and empower the employee residents of Key Training Center, their colleagues and their human resources team. When HR Director Stephen Arena stepped into his new role at Key Training Center, however, he wasn't convinced about the current platform's ability to manage these critical functions…until he realized isolved's "Cadillac" HCM platform was being used as a bike.
The Four E's
Enterprise Grade Software
An HR consultant for decades, Arena modernizes businesses by migrating from paper to digital processes and onboards systems for learning, hiring, and payroll. Key Training Center needed a system that would encompass a full, end-to-end system to integrate HR systems across all lines of businesses and support each employee from hire to retire.
Since the purchasing and implementation of isolved transitioned through three people at Key Training Center prior to Arena, the various changes resulted in system neglect. Arena was concerned isolved didn't measure up to what he was used to, but those concerns were quickly resolved.
"As I started to use the platform, isolved exceeded my expectations for what could be done," said Arena. "It's truly an intricate system. I've implemented major changes with the help of isolved.
"The way I explained it to the team is we have a Cadillac, but we were using it as a bicycle. isolved is giving us tons of ability but we had to start using all the tools…so thank God that isolved is a partner."
Educational Services
With the partnership between isolved and Key Training Center running as smooth as a Cadillac, the nonprofit started to consider changes to its HR software.
While the global health crisis certainly made operations a challenge across industries, one of the biggest changes Key Training Center needed to make had nothing to do with outside influences. For over 50 years, isolved employees were paid monthly. With the help of isolved, Key Training Center went to biweekly payroll to align with changed employee expectations.
"Instead of going from monthly to bimonthly pay taking six months to do, we did it in one month with isolved," said Arena. "It was done perfectly and with no problems. It's a transition we wouldn't have been able to do on our own. We were skeptical but isolved said 'we can explain to you how to get it done quickly' and they did. It will really help other companies to know that this can be done and that isolved takes learnings from their bigger customers and helps their smaller customers."
Employee Savings
Key Training Center also had an opportunity to save money by changing its current healthcare provider. isolved jumped into help.
In less than a month, Key Training Center changed its open enrollment provider via isolved.
"isolved continues to surprise us because they get stuff done," said Arena.
Instead of Key Training Center getting the savings, the HR staff saved employees money. With the change, each employee saved $85 a month for their benefits while keeping the exact deductibles – resulting in over $1,000 of savings per employee each year.
Exceptional Partnership
isolved takes pride in offering powerful technology right-sized for growing businesses, including Key Training Center which isolved assists with a roadmap for improved digital maturity. One of the next steps is to quickly implement rules for dynamic pay scenarios which is currently being done manually.
"I would put my name on this any day. If you need someone who will be there for you, it's isolved. If you want to go to ADP for them to sell to you and walk away, that's one thing. If you want a company that is partnering with you and making you better, that is isolved."
While HR technology can't solve every challenge, isolved's people-first platform and customer support gives organizations something everyone desires: to be the best versions of themselves.
"With isolved you are buying more than just a product, you are partnering with exceptional service and expert knowledge," said Arena. "This creates more than just a purchase of isolved, it creates and continues to increase the value of the partnership that is more than just an HCM product."
"When employers underutilize their existing technology for HCM, it is incumbent upon the vendor to do all it can to help customers get the most out of their systems. Partnering with Key Training Center, isolved went beyond this. By spearheading a high-touch, consultative vendor-customer partnership, the vendor worked closely with Key Training Center's highly involved director of HR not only to broaden and sharpen his department's use of isolved People Cloud, but also to drive HR's impact on business transformation at Key Training Center."
~ Brent Skinner, Director and Principal Analyst at 3Sixty Insights