Predict Workforce Outcomes, Prepare for Trends and Put People Insights to Work
isolved Predictive People Analytics help HR and business leaders navigate a direct course from flying blind to proactive human capital management with sophisticated insights, delivered easily and directly:
Align recruiting and retention efforts by understanding where you are being successful and where the gaps are

Visualize the health of your workforce to ensure business continuity and growth

Examine emerging trends among key groups before they impact your business

Accurately forecast future scenarios and outcomes to start shaping the future, not just reacting to the past

Benchmark internal retention indicators against your industry or competitors to hire the best and keep them for longer

Better equip your organization to recruit and then retain top talent through deep analytics and predictive modeling
How Do isolved Predictive People Analytics Help Me?
If you're an HR professional, CPO/CHRO, CIO, CEO, or other business leader looking to better understand your workforce and predict, forecast, and plan for changes, then Predictive People Analytics can transform how you manage your business. isolved Predictive People Analytics deliver easy access to:
Better visibility and insights to make people decisions
Centralized metrics for one-stop action
Easy-to-use mobile and web dashboards
The ability to tie people data to financial data
Predictions to assist with strategic planning
Conversational voice-activated virtual assistant
Goodbye reports. Hello insights.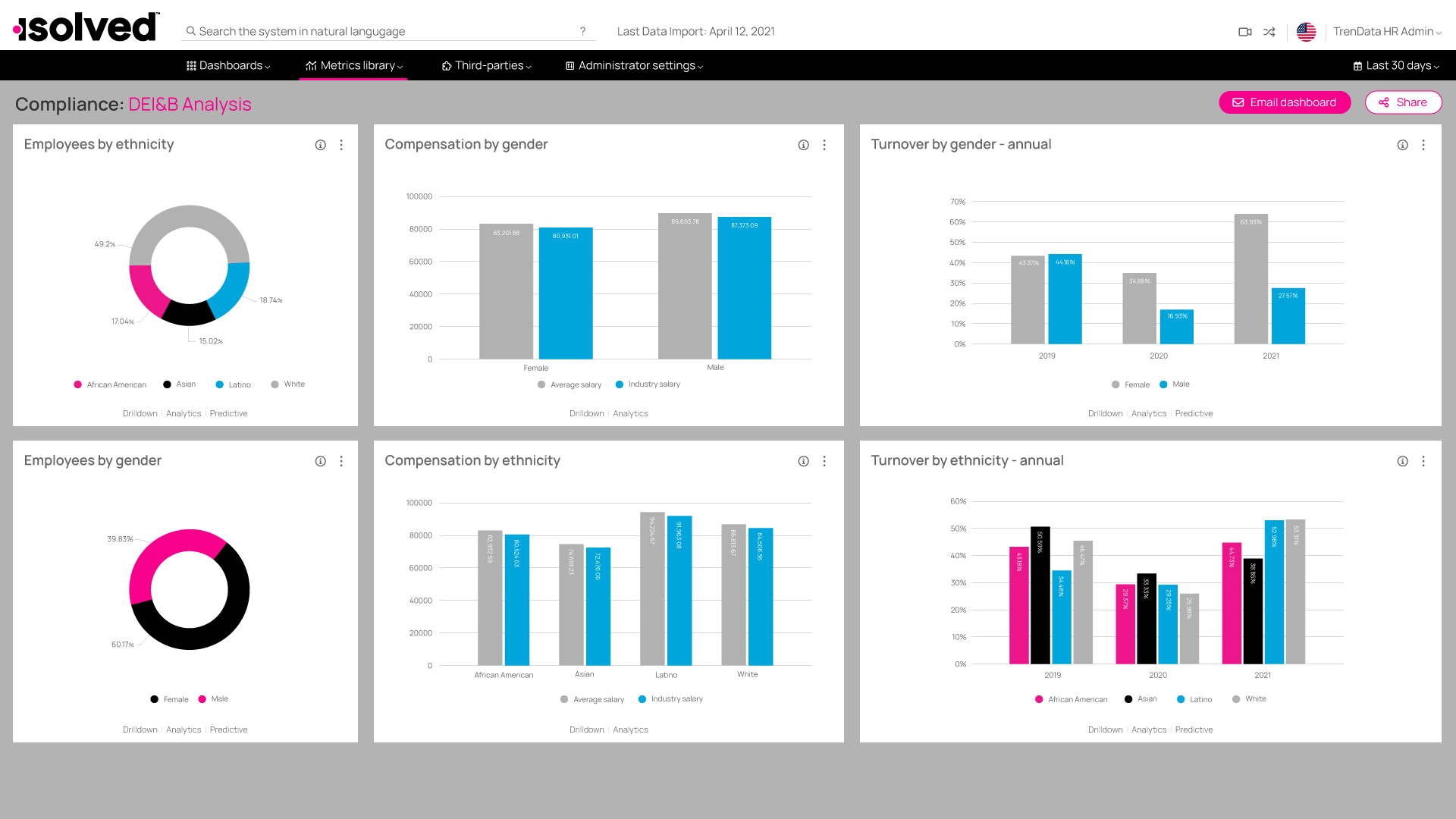 Generate an overview of your company's broad metrics against various types of industry compliance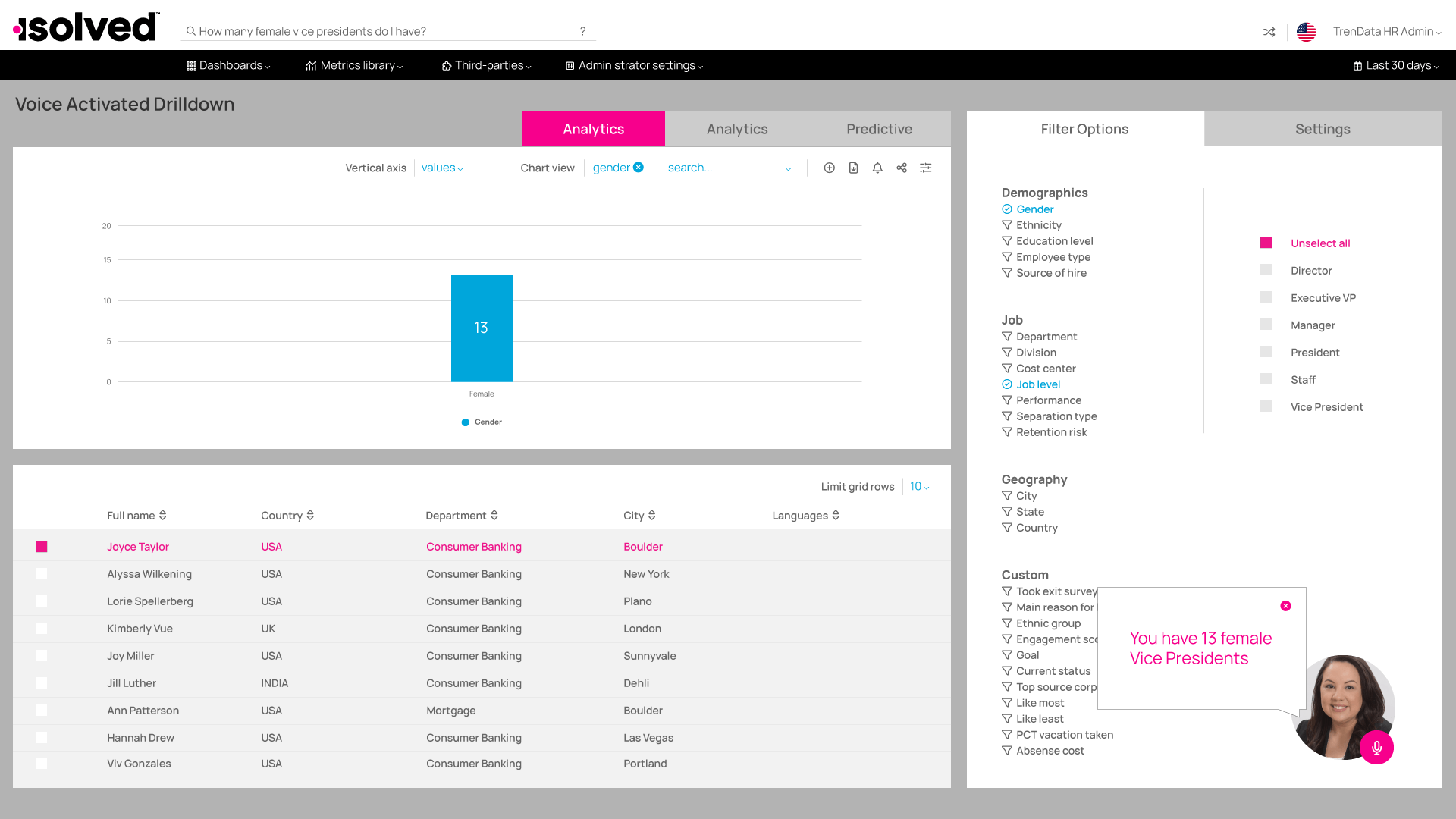 Review usage statistics for the voice-activated personal assistant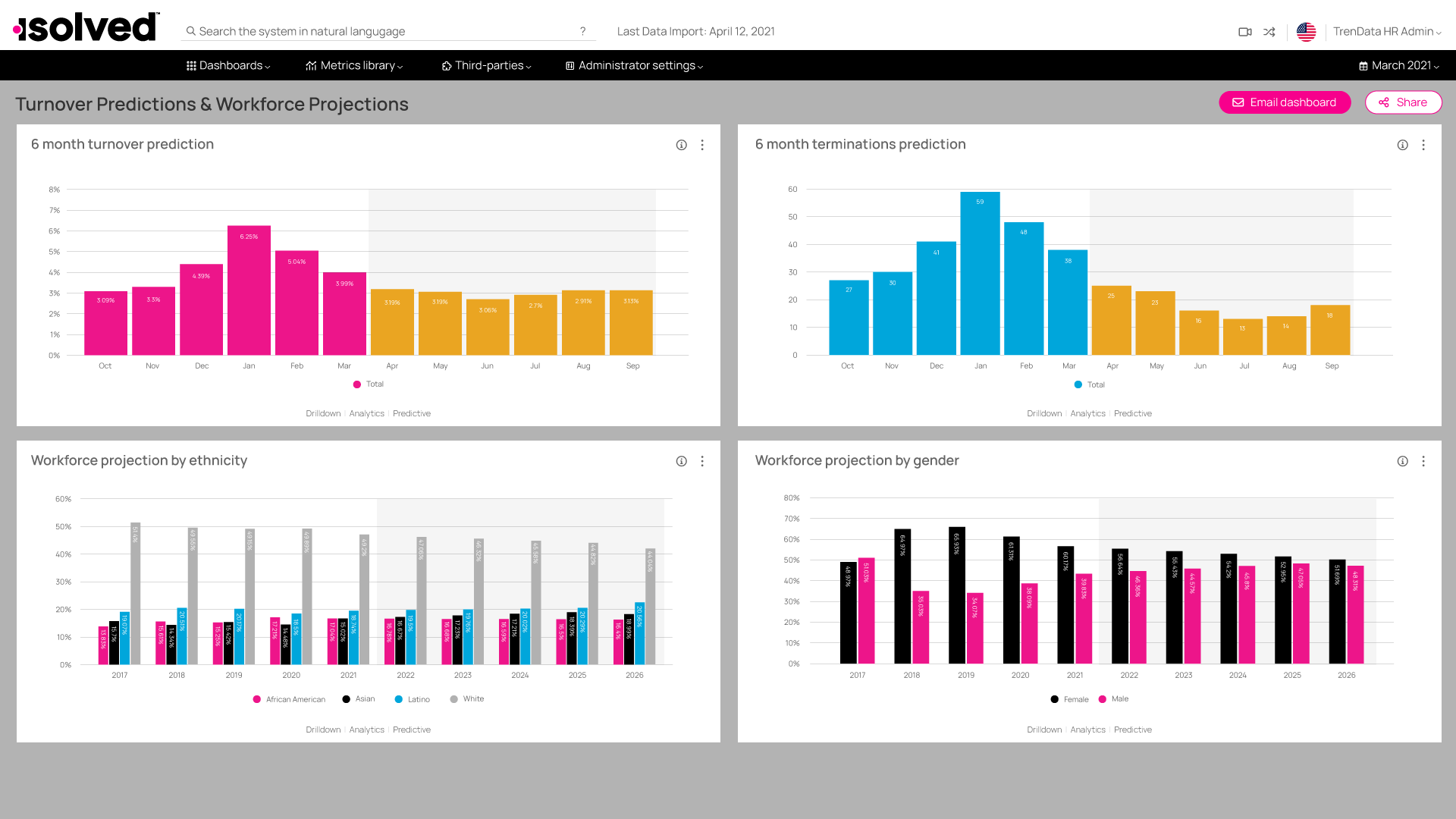 View predictions and projections for your workforce's behavior, including expected turnover rates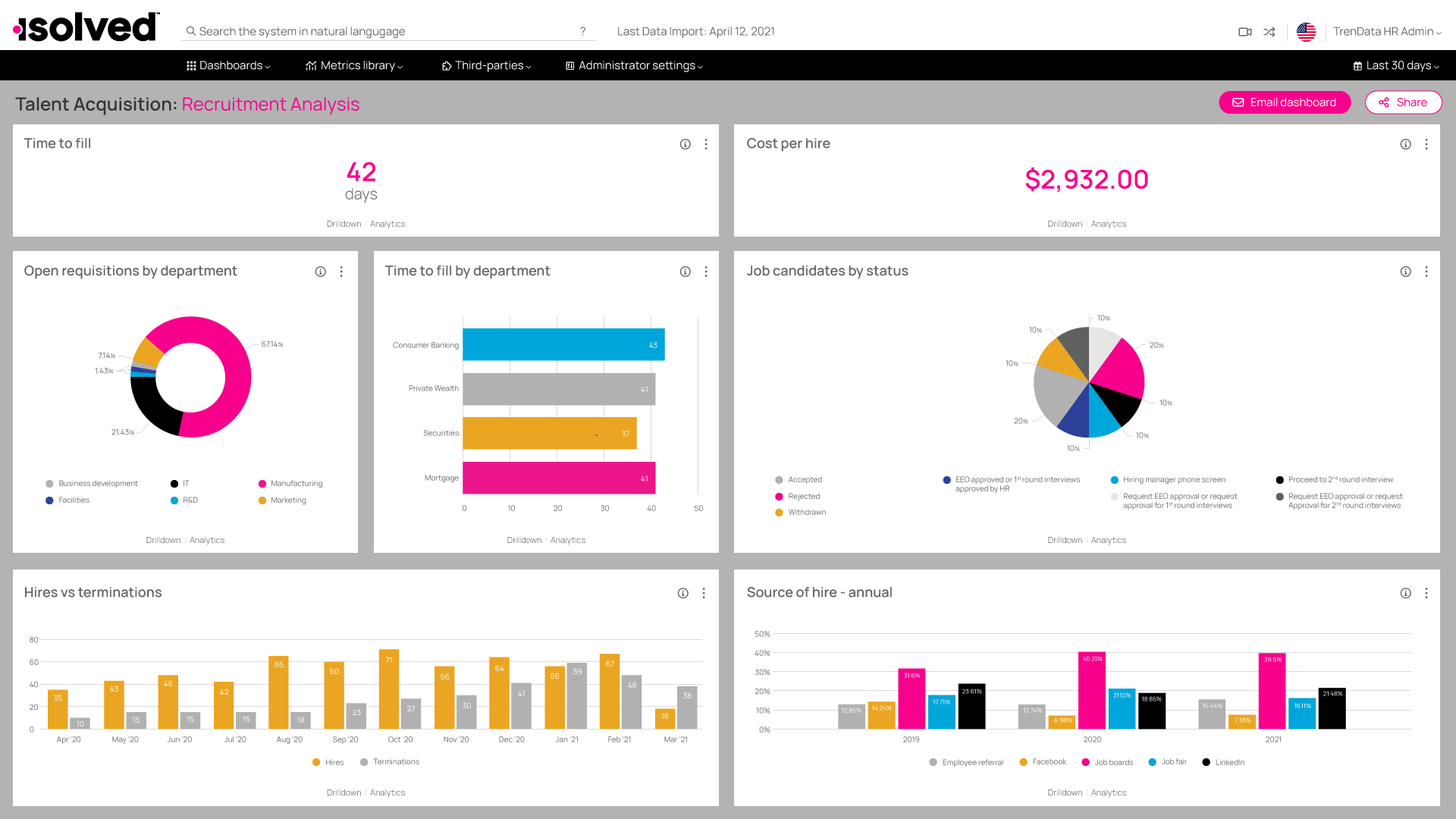 Analyze your talent acquisition performance using tools like our recruitment analysis.
Talent Acquisition: Recruitment Analysis (Shown above)

Compliance: DEI&B Analysis (Shown above)

Voice-Activated Workforce Data (Shown above)

Turnover Predictions & Workforce Projections (Shown above)

Data Capturing and Data Processing

Payroll Data: Salary History, Profile Information

HR Data: Demographics, Job Titles & Positions

Talent Data: Skills Information, Turnover & Retention

Workforce Data: DEI&B Information, Hours Worked

LOBData: Competitive Intelligence, Census Information

Enrichment Data: Survey Responses, Industry Benchmarks

Predictive Modeling to Learn & Forecast

Analysis of Workforce, Employee, External and Financial Insights

Graphical Insights and Future Scenarios

Graphical Insights and Future Scenarios
Connect. Analyze. Predict.
isolved removes the cost and expertise barriers to bring you sophisticated predictive people insights by automatically aggregating data and applying advanced AI-backed prediction models. What's more, with our integral NLP-backed conversational virtual assistant (VA), it's even easier to just ask for the powerful visual key performance indicators you need to make better decisions, wherever and whenever you need them.