3 tips for virtual onboarding of new employees
Tuesday July 14th, 2020
Estimated time to read: 2 minutes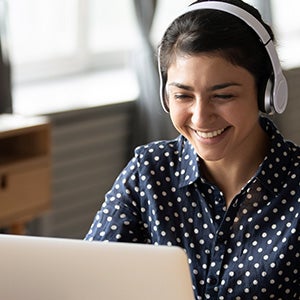 Extract: Virtual onboarding may be new to many companies, but it's important to get it right for new hires. Here are three tips to help organize your virtual onboarding program.
The onboarding process is critical for each new hire's experience with your company.
Effective onboarding means new employees will be able to start in their new role comfortably and confidently. Plus, a positive experience throughout the process promotes retention. In fact, people who have a bad new-hire experience are twice as likely to look for other career opportunities in the near future, according to Digitate.
With so much riding on the onboarding experience, it's critical that companies get it right. As virtual onboarding becomes more prevalent, this new format presents unique challenges.
Here are three things to consider when creating a virtual onboarding program:
Provide all necessary technology in advance
Virtual onboarding requires some forethought to make sure new hires have their laptops, headsets and other necessary equipment in their hands on their start date. To arrange this, take note of shipping schedules and non-delivery days.
You'll also need to ensure employees will be able to install any necessary software or access important systems. Prior to their start date, send instructions to new hires' personal email addresses explaining how to log into new laptops and secure networks, HR Daily Advisor recommended.
To help new hires download and set up needed software correctly, arrange one-on-one phone sessions with each new employee, LinkedIn advised in an article.
Promote engagement in each session
New hires have many activities they need to carry out, such as filling out paperwork, enrolling in benefits and learning about the systems they'll be using in their role. The risk of burnout is all too real if these activities are crammed into overwhelming sessions.
To promote engagement in each session, take a few considerations into account:
Time length: Some sessions will require several hours to review all the necessary information, while others can be fairly quick and informal. Keep a good balance in the types of sessions scheduled for each day.
Number of sessions per day: The environment during a virtual onboarding session may be very different than in-person programs, as everyone's home lives can bring unique challenges. Spacing sessions out over a longer period of time can help keep employees focused and engaged, LinkedIn explained in the same article.
Repetitive activities: Keep your onboarding program as streamlined and efficient as possible. Reducing the number of activities required can keep new hires excited about starting their role.
Give them a schedule
Onboarding for a new job can feel like a whirlwind, even when done in person. Providing a planned schedule of events, including details about what each session will cover and what is expected from new hires, can help the onboarding process feel less stressful.
Additionally, there may be recurring meetings new hires are expected to attend, such as team meetings or weekly stand-up sessions. Add new hires to these events promptly so they have information about them well in advance. If they need to know any details about what to expect or bring to these meetings, let them know.
Your onboarding process will set the tone of the organization and your new hire's role on the team. Make sure to follow these helpful steps to maintain a consistent and engaging experience for each person you bring on virtually.
This article has been read 3,259 times.