5 key benefits of using an LMS for employee training
Tuesday August 11th, 2020
Estimated time to read: 1 minute, 45 seconds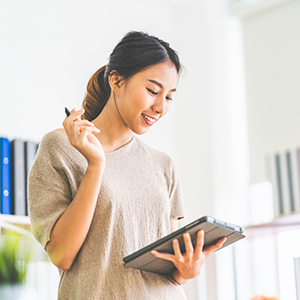 A robust learning management system (LMS) like iSolved Learn can offer major advantages and conveniences for employee training — especially for companies navigating remote work situations.
When it's time to onboard new hires and help longtime staff members brush up on advanced skills and competencies, consider these five advantages of LMS for employee training:
1. A comprehensive LMS comes loaded with ready-made courses
Taking an analog approach to employee training means starting from scratch — and, in many cases, reinventing the wheel. With a comprehensive LMS for employee training at their disposal, HR leaders win back countless hours while bringing the workforce up to speed on industry standards and compliance matters faster.
Using iSolved Learn Pro, you can quickly build out training curricula in a few clicks by choosing from our extensive course library featuring 150 ready-made e-learning courses, which are designed to be compliant with industry standards. Subject matter categories include:
Business skills.
HR compliance.
IT and cybersecurity.
Leadership and management.
Sales and service.
Software.
Workplace safety.
2. Custom training courses are easy to create and reuse
The major time savings gained from utilizing preloaded content allow HR professionals to focus on developing company- or industry-specific training courses. A streamlined user interface makes uploading and launching new courses simple.
The online course format means HR and management only have to participate in each lesson once. After the initial deployment, every course in the LMS can be repurposed and reissued to new hires or other team members in the future.
3. HR can develop and deploy curricula based on job role
An LMS helps simplify the process of managing a company's training program. Rather than having to manually choose and assign individual courses at every turn, HR and management can develop training curricula and configure course paths when using an LMS for employee training. These paths can include ready-made content as well as customized lessons.
When someone joins a particular department, or the time comes for an annual compliance training session, LMS users can simply assign workers to these guided paths.
4. Employees can learn at their own pace
An LMS for employee training also offers advantages to staff members across the org chart.
New hires can tackle compliance courses one by one, which helps them take more ownership over the onboarding experience and reduces overwhelm. Similarly, seasoned employees can set professional development goals and ramp up their skills in bite-sized sessions.
Remote workers and on-site staff embroiled in important projects and meetings can easily consume course content online when it suits their own schedules, instead of interrupting the workday with an hours-long training session.
5. Record-keeping capabilities help companies ensure compliance
After courses are assigned and completed, LMS users can easily view progress metrics and track performance within the system. When companies embrace an LMS for employee training, critical compliance course data will never get lost in the mix.
Gamification strategies and certificates make participating in courses and tracking results more engaging for the workforce, too.
Take your training to the next level with iSolved Learn, a powerful and engaging learning management system that's integrated with the HR and payroll platform.
This article has been read 3,712 times.