Aligning Technology and People Solutions to Improve Engagement
Tuesday October 23rd, 2018
Estimated time to read: 2 minutes
Employee engagement is more than just a buzzword in today's business world. Engagement is an extremely important aspect of operating a business that can impact a number of factors, including turnover rates, employee satisfaction, and organizational performance. The main drivers for establishing strategies and initiatives to boost engagement are:
72% – Enhancing the organization's culture
56% – Encouraging teamwork and collaboration
66% – Improving overall organizational performance
(*Source: 2018 Brandon Hall Group Employee Engagement Study)
In the past, engagement was often viewed as a means to an end that would help make the workforce more efficient. However, engagement has become more of a driving force behind improvements and changes being implemented at organizations of all sizes.
According to the 2018 Brandon Hall Group Employee Engagement Study, approximately 29 percent of employees consistently opt out of participating in engagement efforts. By changing the way your organization implements engagement, you may be able to target that portion of your workforce and get them more involved.
One of the first ways to improve the engagement at your organization is to improve real-time feedback. Most employers conduct an annual performance review, sometimes as a formality, leaving employees wondering where they stand and how they are progressing during the other 364 days of the year. Engaging moments are more likely to happen in the continuous-conversation model, rather than the annual performance-review model.
Organizations report an increase in employee engagement when they have these useful technology solutions in place:
Wellness (49%)
Rewards and recognition (51%)
Coaches and mentoring (56%)
In the study performed by the Brandon Hall Group, one of the questions pertained to formal programs designed to train managers to become mentors and coaches to their peers. Less than half of those surveyed reported having this type of program in place.
Employees at all levels across all industries are interested in being recognized and rewarded for their hard work. Formal rewards and recognition programs or top-down rewards for engagement don't typically work as well as offering praise, feedback, and rewards for specific tasks that are accomplished. In order to maintain consistency, you need some type of alignment between your people and your technology to keep track of and reward these efforts.
Approximately 21 percent of employees waste between two and five hours per day while at work. Nearly 40 percent of employees waste less than one hour, while 3 percent waste 10 or more hours per day. This isn't necessarily because they are unhappy with their jobs, but rather because they don't feel engaged and they don't perceive the purpose behind what they are doing.
Employee engagement is the key for business success. It impacts productivity, innovation, and employee turnover rates. By boosting engagement at your organization, you can promote retention of talent, improve organizational performance, and foster customer loyalty.
iSolved with Mojo is a multi-directional, employee-centric solution to many common business challenges, including those addressed in this article. The energy of your employees is the spark that starts the Mojo cycle.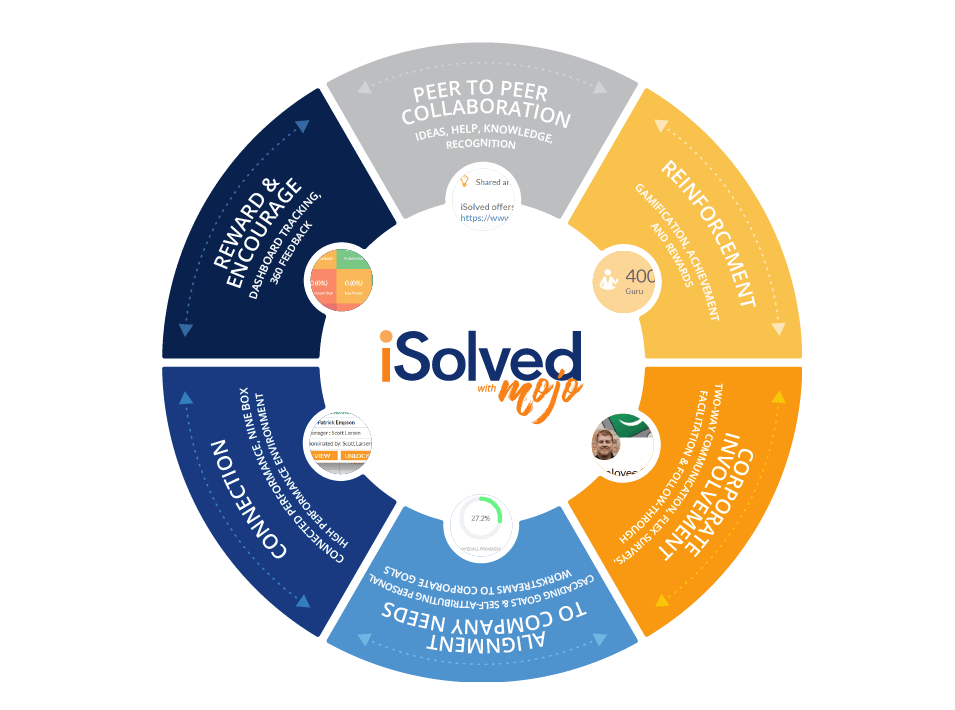 Employee engagement is asking how you can help people do what they want to do. When employees are aligned with their own needs and desires, with corporate goals, and with each other, then your organization is on the right path. Technology can help provide an outlet for these tools. When used correctly, they can help us become more human as we do what we do best: help each other.
Learn more about iSolved with Mojo and how it can boost engagement at your organization by visiting www.isolvedhcm.com/mojo.
This article has been read 1,597 times.