Compliance Corner: Baby Boomers Exiting the Workforce: How HR Should Prepare
Wednesday May 31st, 2023
Estimated time to read: 3 minutes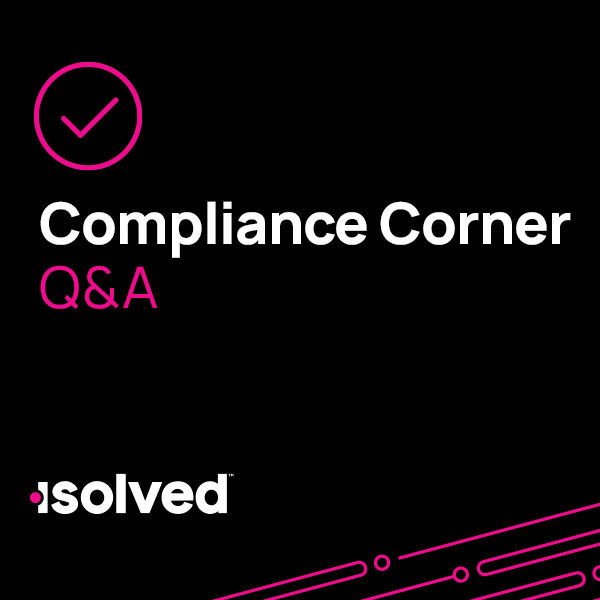 As the Baby Boomer generation begins to head toward retirement, a massive change is heading to workplaces across the country. In this month's Compliance Corner, we hear from isolved's HR Services Manager Rachel Barr to discuss the implications of this generational shift.
Has the mass workplace exodus of Baby Boomers begun? If not, when will it begin?
The Baby Boomer generation will be between the ages of 59-77 in 2023, the peak time for retirement. Most of the first half of the Baby Boomer generation have already retired, and the second half (specifically those under 65) started to retire earlier than expected due to the COVID-19 pandemic. Those that continued to stay in the workforce are coming into their retirement age. However, with the current state of the economy and talks of an impending recession, it's making Baby Boomers question whether they can or should retire, or perhaps stay in the workforce a few more years in preparation.
Are workplaces ready for this transition from Baby Boomers to Gen X/Millennials?
There was a question of whether or not workplaces were ready for the transition from Baby Boomers to Gen X and Millennials before 2020. However, the pandemic forced companies to move quickly into a new era of work, one that is more aligned with the values and work styles of Gen X and Millennials. The gap now lies in workplaces geared towards Gen Z and Generation Alpha, while still maintaining an effective environment for Gen X and Millennials, even the last of the Baby Boomers.
As this switch takes place, how do workplace expectations shift?
With each new generation comes new workplace needs. For example, Gen X, Millennials, and Gen Z all highly value flexible working benefits, whereas Baby Boomers did not have this as a benefit. Now, we can argue that flexible work wasn't as accessible to Baby Boomers and became possible faster due to COVID-19, but this was a growing trend before COVID-19 due to the huge advances in technology and the change in societal relationships.
Another workplace shift to be aware of is that many workplace values come back in cycles. Like fashion trends, certain work values increase and decrease in importance throughout generations. For example, Baby Boomers value job security, whereas Gen X and Millennials value pay raises as part of job prestige more highly. Interestingly enough, Gen Z also highly values job security. HR teams can use this recycling in values to look back at their previous workplace processes, see what worked, and upcycle it to work for the current generation.
HR should also pay special attention to Generation Alpha, as this group is just entering the workforce. We will have to watch over time how their values differ from the generations before them.
Do the preferences of incumbent generations place different demands on HR teams?
HR teams are in a unique and difficult position as their workforce can potentially contain five different generations (Baby Boomers, Generation X, Millennials, Generation Z and Generation Alpha). All five generations have different work styles, engagement needs and ways of thinking that can clash if not managed effectively.
What are the best ways for HR teams to prepare for this paradigm shift?
Start succession planning now, if you haven't already done so. Even if employees in the Baby Boomer generation haven't officially announced their retirement, starting the planning now will give your team more preparation time and knowledge sharing opportunities.
Ask for feedback from applicants and new hires. Your recently hired employees will vary across generations but will focus on the largest current generation. Use these new hires and applications to obtain feedback on the hiring process and what changes may be needed to enhance the experience.
Utilize employee engagement surveys and chats. These are tried-and-true tools that can elicit meaningful feedback from your current workforce as the company, and the employees, move through this generational shift.
How will forward-thinking HR teams successfully navigate the changing landscape?
Remaining nimble and open to change is the only way HR will successfully navigate this changing landscape. HR teams will also have to maintain open communication with their workforce more than ever to ensure the right changes are happening at the right time.
Mass tach layoffs and economic uncertainty have dominated the headlines—will this influence the handoff of generations?
Yes, many Baby Boomers who had not retired during the pandemic may have been planning for early retirement, but with economic uncertainty looming they could plan to work for longer to better support themselves in the long-term. This delay in Baby Boomers retiring can affect all proceeding generations, specifically in terms of promotion and growth opportunities that younger generations are working towards and may have to wait longer for. Leadership and HR teams need to play an active role in keeping all generations engaged, otherwise employees may start to feel stuck and look elsewhere for growth.
Want to ensure your organization is ready for the generational shift? isolved HR Services can help.
About Rachel:

Rachel manages isolved's HR Services team and has more than eight years of experience in the HR space. Her areas of expertise include training and development, employee relations, performance management, and compliance. Throughout her career, Rachel has supported HR teams internally and through consulting in the retail, food and beverage, hospitality, technology, distribution and publishing industries.
This article has been read 1,020 times.