Compliance Corner: Q&A HR Year-End Round-Up and Preparing for 2023
Tuesday December 27th, 2022
Estimated time to read: 4 minutes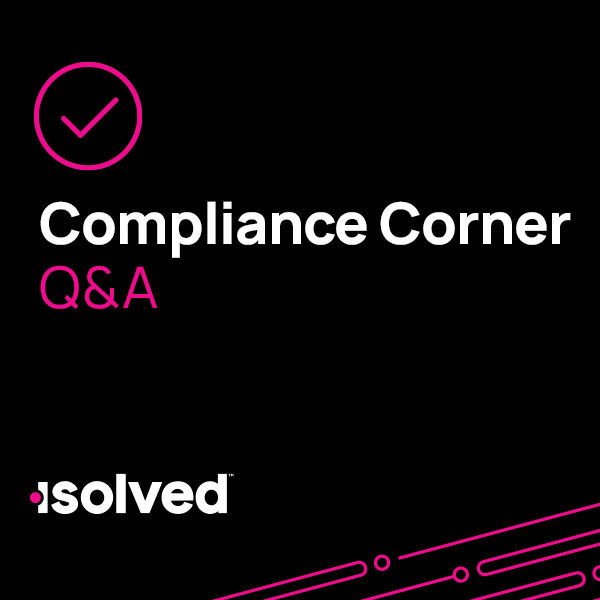 The holidays are well under way and before we know it 2023 will be starting. We all want to start fresh and not be playing catch up with 2022 tasks, especially in HR. HR reps maybe thinking about the best ways to finish off those last-minute year-end details in order to have a clean slate in the near year.
In this month's Compliance Corner blog, isolved's Senior HR Consultant Lisa Bright and HR Business Partner Lisa Holman answer questions about what HR reps can do to round-up the year and prepare for 2023.
Q. What are some tasks that are absolute musts for HR professionals to have done by year end?
A. Here is a to-do list:
Review the isolved Landing Page (Client Management>Landing Page) and check Quick Links – Holiday Closures and Payroll Processing Reminders; Tax Alerts; New isolved Releases; and much more.
Review all state-applicable law updates for 2023 to ensure compliance.
Replace workplace employment law posters for 2023; ensure remote employees are receiving employment law poster updates as well.
Conduct company-wide wage analysis.
Audit personnel files for compliance; review record retention guidelines and properly purge dated records.
Ensure job descriptions are established for each position and reviewed.
Review and update employee handbook policies if applicable.
Review time off balances and send out a reminder to employees to use any hours that will not roll into the next calendar year if employer has a "use it or lose it" policy or cap on carryover.
Review and update OSHA log.
Prepare annual HR report to include metrics for recruitment, retention, training and development, engagement, productivity, and performance.
Create a workforce staffing plan that forecasts the company's future hiring needs and expectation of DOH and estimated time to fill the position.
When it comes to benefits:

Reconcile benefit invoices to ensure adjustments are done in the same fiscal year.
Examine benefits packages to ensure compliance with the ACA and review if it still meets the needs of the company.
Send reminder to FSA plan participants on usage of remaining fund balances.
Prepare Total Rewards Statement for each employee.

Q. Are there any payroll and tax-related obligations that may need to be addressed before EOY?
A. Yes, here's what needs to be addressed:
Check salary threshold for exempt employees to ensure federal and state requirements are met. Ensure hourly pay for non-exempt employees meets the minimum wage threshold.
Double check W-2s / 1099s and update employee addresses.
If your business is subject to the ACA requirements, distribute 1095-C forms to full-time employees by January 31, 2023.
Report to payroll third party pay out for disability payments so they can be added to the W-2.
Submit fringe benefits such as stock options, employee bonuses, moving or commuter expense to payroll.
Q. How can an HR professional reengage current employees to keep them in the new year and reduce acquisition time and cost in the new year?
A. Focus on internal employee training and development. Look at creating internal opportunities for movement and ensure the right talent is in the proper roles by conducting a skills gap analysis.
Learn your employees' perspective and gain feedback of your current workforce by surveying your employees. Whether it's about culture and environment, benefit offerings, communication, or leadership, gathering and acting on feedback is crucial in engagement and employee experience.
Foster cross-departmental collaboration by setting regularly-scheduled meetings. Partnering with those outside of your normal job responsibilities or functions can help align common goals, projects, or solutions. This collective method often leads to more ideas, shared workloads, process improvements and cultivates a culture of continuous learning.
Develop a Corporate Social Responsibility Program that shows organizational commitment to the wellbeing of social environments and promotes positive employee relationships by giving employees a sense of identity and connection with the business.
Maintain organizational transparency within company and departmental meetings. Be honest and open about the company's culture, priorities, financial picture, and goal setting.

Q. How best can HR professionals be ready for what 2023 may bring?
A. HR professionals will likely see a variety of topics and push for action in 2023. Flex work environments, artificial intelligence (AI) and automation, continuous feedback communication, working with an incoming new generation of employees, company culture, and other fun benefits that can set an employer of choice apart.
Leverage a flex and hybrid work environment to compete in various markets and assess the need for physical space. Hybrid work models allow employees to have flexibility to work when they are most productive and promotes work life integration. A well-executed hybrid workplace integrates physical spaces and technology, reduces absenteeism, and enhances productivity, as well as improves employer – employee trust allowing employees to feel empowered by improving loyalty.
Invest in AI and automation like our customers have with isolved (i.e., applicant tracking, performance reviews, employee feedback/surveys, employee self-service, and learning management systems). This allows for you to focus on your people, to automate and streamline processes, boost your learning and development programs, and you'll find that AI and automation can evolve with the needs of your business.
Provide continuous employee performance communication, not just the annual review. Deliver a consistent, ongoing communication on employee performance and recognition. This allows the employee and manager to be transparent on deliverables, what is going well and what can be developed, avoiding surprises when the annual review time comes.
Prepare for the next generation! With the exit of the baby boomer generation, employers need to appeal to Gen Z and understand their expectations. This incoming workforce has a different set of priorities and ideas for their careers including flexible schedules, collaboration on projects, and consistent feedback on their job performance.
Build a company culture that positively influences your employees' performance and strengthens your distinctive company identity. Identify and define your culture; create awareness and shared understanding and belief of the culture; adopt in the daily behaviors and work practices; and nurture your environment through ongoing monitoring, accountability, and reinforcement.
Set your benefits apart, consider other ancillary benefits such as pet insurance, volunteer time-off, elder care assistance, EAP, wellness programs, referral incentives, discount programs, and telehealth options.

About Lisa Bright:
Lisa serves on the isolved Defined HR Services team, bringing more than 20 years of experience in HR. She has supported a variety of industries including healthcare, manufacturing, education and preferred employer organizations. Her areas of expertise include compensation and benefits, policy compliance, employee relations and performance management.

About Lisa Holman:
Lisa serves as a Human Resources Business Partner on the Defined HR Services team for isolved. She brings just over 20 years of broad HR experience with supporting industries including professional services, healthcare, manufacturing and retail services. In Lisa's current role, she works closely with clients offering HR business partner support and serving various consulting needs.
*This blog is not legal advice. Please seek proper legal advice.
This article has been read 1,812 times.