Compliance Corner: Q&A on Commonly Outsourced HR Tasks
Friday April 29th, 2022
Estimated time to read: 3 minutes, 15 seconds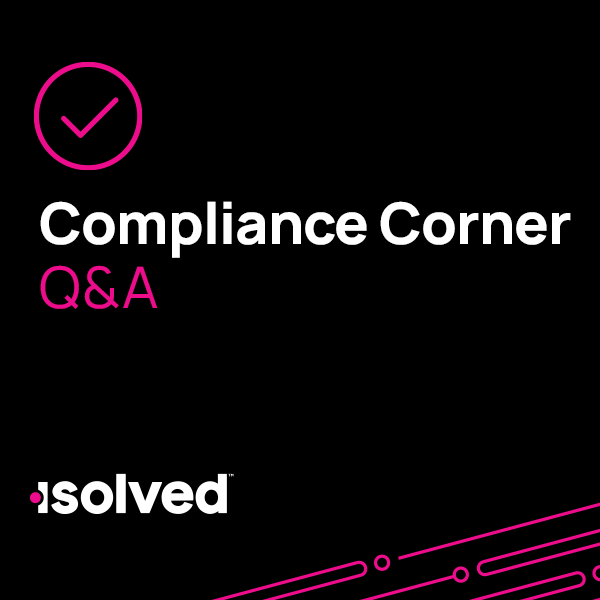 Twenty-five percent of HR leaders say they plan to outsource human resource (HR) tasks this year, with organizations that have 500-1,500 employees being the most probable to turn to third parties for assistance.
In this month's Compliance Corner Q&A, People Services' HR Business Partner Casey Walters is answering questions about some of the tasks that HR leaders say they are most likely to outsource in 2022. Learn more by reading the Q&A below:*
1. What are some signs that a business could benefit from outsourcing HR tasks?
Any company can benefit from outsourcing certain HR tasks. This could range from the owners of a small mom and pop shop who don't know where to start, to much larger companies with an extensive HR department that is looking for assistance with specific needs.
2. What type of benefits support tasks are commonly outsourced?
Typically outsourcing benefits support focuses on simple automation. This may include using isolved benefit elections features to Electronic Data Interchange (EDI feeds), which take those elections and transmit the information directly to the carriers. This helps to eliminate paper forms for employees as well as the time it takes for an internal contact to run reports and identify changes, which then need to be manually updated on each carrier's website.
Another common benefit support item is a benefits audit. This compares isolved deductions to carrier invoices to ensure the company is being charged appropriately by the carriers and charging the appropriate amounts to employees.
3. What are the benefits of requesting an HR compliance and efficiency analysis by a third party?
Having a third party review current practices provides a fresh and comprehensive viewpoint to a business's HR team. The third party will typically have visibility to many groups of different sizes – across industries and state lines – which internal HR teams can't otherwise access. The third party will likely look at the business's entire HR infrastructure, including job postings, onboarding practices, performance reviews and so much more. This in-depth review will naturally identify opportunities for efficiencies that will save time, which allows internal HR teams to focus on other strategic items within their company.
4. How can outsourcing employee relations support help organizations foster better employee experiences?
By outsourcing employee relations, groups will receive an unbiased approach to situations that may benefit from an outside viewpoint. It's not uncommon for business leaders to come into these discussions with preconceived notions or by sharing personal or historical context of a situation, but turning to a third party for support can help strip away emotions and make it easier to focus on facts. Oftentimes this results in a better outcome for the company and the employee, while also reducing the amount of internal stress on HR teams.
5. How can outsourcing HR tasks (such as compensation analytics, wage banding and position descriptions) help organizations improve talent acquisition efforts – especially those being negatively impacted by The Great Resignation?
HR teams have many priorities vying for their time and resources. As a result, position descriptions, compensation analytics and wage banding are frequently put to the side to deal with urgent business needs. Outsourcing these tasks can typically speed up processes. In the example of position descriptions, recruitment teams can immediately update job postings to begin improving talent acquisition efforts quickly.
Third parties can also take completed job descriptions and get salary information for each position based on set parameters that are chosen by the business, such as location/region, desired percentile in the market and industry. This gives HR teams the most accurate picture of current compensation to attract and retain staff.
6. What are the advantages of having a third party develop employee handbooks?
Employee handbooks should be reviewed and updated at least annually, and this task can be difficult – especially when ensuring compliance with federal, state and local changes. Updates have become even more difficult with hiring remote employees and/or having employees working in multiple states.
By partnering with a third party like isolved People Services, businesses can feel confident that they have a legally compliant handbook. Plus, the turnaround time is typically days (rather than months). The initial handbook also remains compliant as changes happen throughout the year due to the tools that are leveraged to develop it.
7. Why are HR compliance checklists important, and is there an ideal time of year to ask an outsourcing partner to develop one?
Having a checklist is always important to ensure processes are completed consistently regardless of who is managing the task. With HR, there are so many different things to ensure compliance is maintained – especially with all the changing regulations and laws that may apply to a business.
There is no better time than today to review HR practices and ensure compliance. This is especially true because the risk of not being compliant can cost both time and money. It can also hurt morale and damage the reputation of the company or employees.
Learn more about HR leaders' plans for outsourcing this year by reading isolved's second annual Transforming Employee Experience Report.

About Casey:
Casey is part of isolved's People Services team and has more than ten years of experience in HR. His areas of expertise include employee relations, performance management, benefits management and safety. Throughout his career, Casey has worked within the manufacturing, marketing, medical, banking and finance industries.
* This blog is not legal advice. Please seek proper legal advice.
Need assistance completing your critical HR tasks? Discover how isolved People Services can help.
This article has been read 3,362 times.