Compliance Corner: Q&A on Long-Term Pay Compression
Friday May 27th, 2022
Estimated time to read: 2 minutes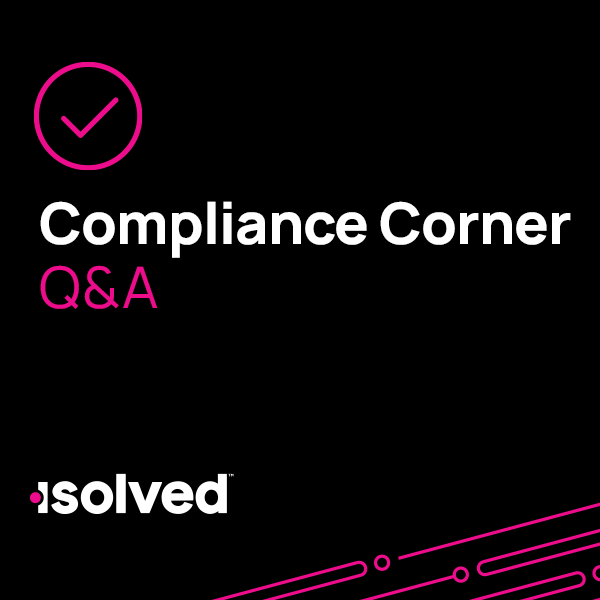 Many organizations are facing pay compression issues as a result of the current economy and labor market. When not addressed, this can lead to turnover and employers may risk losing top performing employees.
In this month's Compliance Corner Q&A, isolved HR Services' Business Partner Rachel Barr is answering questions about the long-term effects of pay compression. She's also providing tips on how employers can avoid and/or address this issue.*
1. What is pay compression?
Pay compression occurs when an employee who has been in a position for a long period of time is paid the same or less than new employees in the same position. Sometimes there are legitimate reasons new hires could earn the same or higher salaries than current employees, such as education level, certifications or experience. However, pay compression is a larger issue than any individual new hire.
2. What kind of issues can pay compression cause over time?
Pay compression can cause inequity between employees within the company, same department and even the same position. This inequity can lead to poor employee engagement, poor work quality, high turnover and difficulty in keeping top talent.
3. How can employers avoid pay compression issues and what can they do to address it within their organization?
There are a few things employers can do to prevent pay compression from becoming an issue, including:
Stay on top of new or upcoming federal, state, or local minimum wage and minimum exempt salary law changes. It's also important to keep track of federal inflation and cost of living in areas where the company has physical offices, as well as market trends and rates for talent.
Complete a full review of the company's current pay practices, including starting wages/salaries for all new hires, the range or average wage/salaries for current employees, manager wages/salaries, average annual increase percentages and wage/salary averages for specific employee demographics (e.g. minority groups).
Create a plan for righting inequities in current pay practices. Remain proactive when presented with signs of pay compression.
Focus on engaging and retaining top talent and plan career growth for those key employees.
4. How has the pandemic influenced pay compression?
When the world started to open back up and people started to put their money back into the economy, there was a surge in business growth. Employers were (and still are) trying to backfill the open positions they had during the business shutdowns, and filling new positions.
However, this rapid increase in the need for employees means that job seekers have the upper hand in the labor market as there are more open positions than applicants. This has required employers to up the stakes with their competitors by increasing starting wages, offering sign-on bonuses, shortening or eliminating waiting period for benefits, and adding hybrid or remote working opportunities. Employers may have lost track of the pay structure of current employees in the rush to fill empty positions and began pay compression issues.

About Rachel:
Rachel is part of isolved's HR Services team and has more than seven years of experience in the HR space. Her areas of expertise include training and development, employee relations, performance management, labor laws and compliance. Throughout her career, Rachel has supported HR teams in the retail, food and beverage, hospitality, technology, distribution and publishing industries.
* This blog is not legal advice. Please seek proper legal advice.
Need assistance completing your critical HR tasks? Discover how isolved HR Services can help.
This article has been read 2,184 times.