Compliance Corner: Q&A on Staying Compliant During Benefits Enrollment
Friday September 29th, 2023
Estimated time to read: 2 minutes, 45 seconds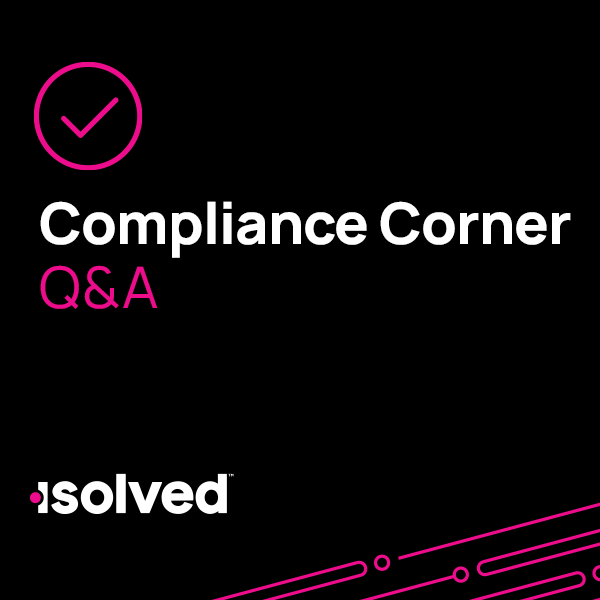 Every human resource (HR) professional knows that open enrollment is a pivotal time of year. Staying compliant is critical. There are guidelines to help HR professionals maintain compliance and help their employees keep up to date on the disclosures, plan options and rules.
In this month's Compliance Corner blog, isolved's Manager of People Services and Senior HR Consultant Jacqueline Henderson answers questions about ensuring compliance during the benefits enrollment period. *
Q: What are an organization's compliance responsibilities during open enrollment?
A: Organizations, lead typically by someone from HR, and their insurance agent(s) should work together as a team throughout the year and particularly during renewal time to ensure understanding, timeliness and compliance. To summarize, at renewal, HR should be very familiar with and address compliance issues such as:
1. Facilitating the sharing of plan disclosures and annual notices in a timely manner. While some of these documents aren't required to be distributed every year, or to every employee, getting the required ones and the non-essential ones out at renewal, while top of mind, is good practice.
2. Knowing and understanding the company's ACA measurement periods and affordability of the lowest cost plan offered. Many companies choose to line up their measurement periods in accordance with their health plan renewal date, which means there may be recalculation and possible disenrollment or offer of health insurance for another 12 months.
3. Communicating to employees how open enrollment works, including important deadlines. Often, this is the one and only chance for employees to make a change to their benefits without a life event.
4. Reminding employees of specific plan rules like Flex and HSA maximums for the year and taking the time to explain how certain plans work, such as a high deductible health plan.
5. Making sure electronic consent regarding receiving electronic delivery is compliant. If individuals are not regularly at a computer as part of their jobs, HR must make sure materials get to them in a compliant manner.
**Given the complexity of group benefits and the specific regulations in each state or locality, listing all compliance issues is beyond the scope of this guide.
Q: What disclosures/notices should HR be sure to communicate?
A: Benefit disclosures are typically an in-depth guide for employees to understand their benefit plan. These can include the Summary of Benefits and Coverages (SBC) and the Summary Plan Description (SPD). There are also shorter disclosures, like the Summary Material Modification (SMM), that provide just a brief summary of plan changes to accompany the more robust SPD. There are also standard required notices, like Children's Health Insurance Program Reauthorization Act CHPRA and Women's Health and Cancer Rights Act (WHCRA). If the organization has COBRA participants, notices regarding plan and rate changes must be sent.
Again, it's important to team up with your insurance agent(s) since many times they will be able to include certain disclosures into enrollment packets that are handed out or provided electronically to employees. However, what is included may vary based on the benefit plan offered as well as state or local requirements.
Keep in mind that documents must be made readily available to employees when requested and furnished within a specific number of days. Regarding federal documentation, please refer to the Department of Labor's (DOL) PDF list linked here. It is recommended to enable employees to easily access plan documents and disclosures on a human capital management (HCM) system, company intranet or benefits website.
Q: What specific things can HR do to better ensure compliance during open enrollment?
A: HR should:
1. Start the process early! This will allow time for shopping other vendors, determining employee cost sharing and in general not rush the process. As a guide, initiate contact with your insurance agent(s) at least five months in advance of the renewal date to get the ball rolling.
2. Have a plan for how information will be distributed. Many companies have embraced HCM open enrollment features, but that doesn't mean all benefit plan disclosures can be shared electronically without proper understanding of the requirements.
3. Make sure your third-party vendors are in the loop. Whether you use a TPA for COBRA administration or a third-party for payroll administration, make sure they know your timeline and consider what they may need, and what deadline they need it, to uphold their compliance timelines (proper deduction schedules, delivery of COBRA notices, etc.)

About Jacqueline:
Jacqueline serves as an HR Services Manager and Senior HR Consultant for isolved, bringing almost a decade of HR consulting experience to the team. In Jacqueline's current role she works closely with clients offering HR business partner support and serving various client consulting needs. She also manages the Custom HR Consulting Team at isolved.
*This blog is not legal advice. Please seek proper legal advice.
Need assistance completing your critical HR tasks? Discover how isolved HR Services can help.
This article has been read 2,176 times.