Compliance Corner: Safe Work Policies and Tactics—What You Need to Know
Tuesday February 28th, 2023
Estimated time to read: 3 minutes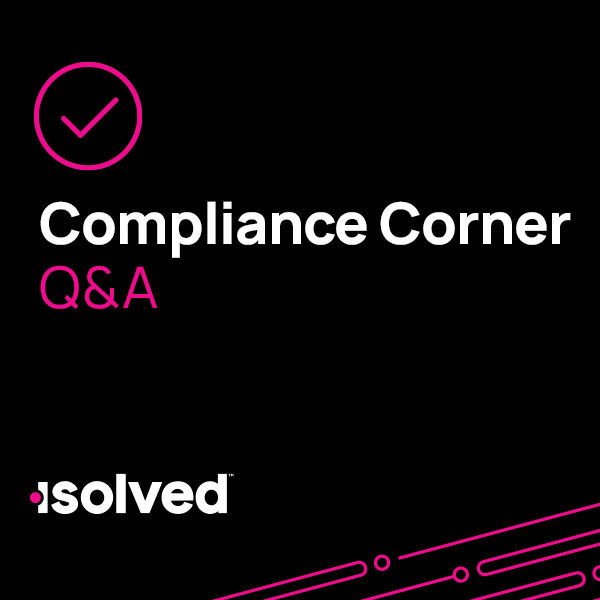 Employees need to be kept safe at work—and employers have an obligation to ensure employee safety. Yet, some companies forgo implementing an effective workplace safety policy, which can leave employees and employers alike at risk.
In our latest Compliance Corner, HR Services' Business Partner Casey Walters answers the top questions surrounding workplace safety policies.
Why do I need workplace safety policies?
No matter your company or industry, certain safety standards must be met. Your employees are your most valuable asset and protecting them has to be a top priority. At a minimum, almost every company is required to have an Emergency Action Plan (EAP) to ensure employees and employers are prepared in case of a workplace emergency.
Other industries require more specific training for the present risks in their workplace. Training around confined spaces, forklift safety, hazard communication, personal protective equipment and many others keep employees safe on the job.
What are the risks of not having a workplace safety policy?
Apart from potentially being out of compliance and facing fines from OSHA, the largest risk is an injury or illness to an employee that could have been avoided by providing the necessary safety programs and training.
This could also impact recruitment and retention for employees if safety issues persist. Injuries that require restrictions or lost time also puts undue burden on co-workers to pick up the work or possibly puts them in uncomfortable and unfamiliar positions.
Medical claims or lost work also impact your workers' compensation premiums. This becomes a larger issue as all claims impact your workers' comp modification factor which is the driver for your premiums. These claims impact your modification factor and the premiums for employees for several years, negatively affecting the company's bottom line.
What should organizations consider when crafting a workplace safety policy?
Beyond the standard EAP, companies need to look at what risks are associated with their workplace and which employees need training. What risks do employees face in your facility? Do they go to job sites off your property? Every organization is unique—there is no one-size-fits-all solution.
What's the best way to implement a workplace safety policy?
Get started now! Sometimes you must start with the basics and build from there. You can't always wait to build out every aspect of the entire plan to roll out at one time. This will not only be an overwhelming task for you, but it'll bombard your employees with too much information at once.
What's the best way to communicate policies to my employees?
Some companies will provide an annual safety training where they will cover all areas in one block of time, but typically it is easier and more effective to provide employees with a set monthly safety training topic. This could be a video played in a conference room followed by discussion and a quiz. Other groups will send out training videos for employees to complete electronically. By doing monthly training, you keep safety in front of employees throughout the year instead of just once a year. This typically will result in less downtime with smaller training each month.
Are there some simple workplace safety best practices?
Every organization is different, but a few best practices can be followed to ensure your safety program is as impactful as possible.
Management buy-in: Employees know when management is checking a box and when something is important. Management must be committed to this to get other employees to buy in.
Safety Team: Once management has committed to this, there needs to be a safety team from across the company made up of managers, employees, and an HR representative. This team would ideally rotate members every 6-12 months to get others involved.
Meetings: In addition to monthly safety training, it's a great idea to take 5-10 minutes daily or weekly to discuss certain topics or possibly incorporate that month's safety topic in more detail specific to their job. The goal is to have employees with a safe mindset every day.
Follow-up: If/when an injury does happen, and after the employee is taken care of, there needs to be an accident investigation to determine what happened and how it could be prevented in the future through workplace changes or training.
What are the benefits of a successful workplace safety policy?
Some of the risks discussed above can be turned into benefits. If you have a safe workplace, you are likely going to have better employee morale and retention as well as see a potential boost to any recruitment efforts. Other more direct benefits would be gained productivity through less work restricted work or lost work due to injuries including the administrative side of managing these claims. And when there are fewer claims on your Workers' Compensation policy, your mod will be reduced which will save you money.
Want to refine your workplace safety policies? isolved HR Services can help.
About Casey:

Casey is part of isolved's HR Services team and has more than ten years of experience in HR. His areas of expertise include employee relations, performance management, benefits management and safety. Throughout his career, Casey has worked within the manufacturing, marketing, medical, banking and finance industries.
*This blog is not legal advice. Please seek proper legal advice.
This article has been read 1,020 times.