Compliance Corner: Year-End HR Planning
Friday October 29th, 2021
Estimated time to read: 3 minutes, 45 seconds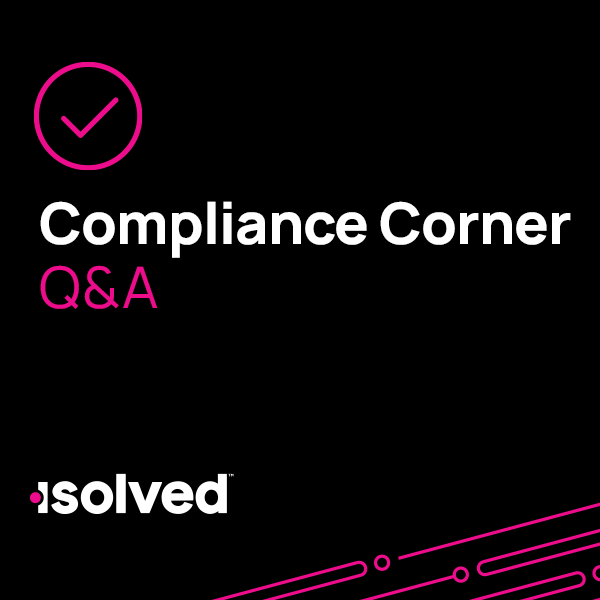 It's a busy time of year for human resources (HR) departments, with many tasks that need to be completed before the end of the year – including planning for 2022.
In this month's Compliance Corner, isolved People Services Manager Stephanie Lewerke is answering common questions about important year-end activities that HR teams need to be aware of. Find out what you need to know by reading the Q&A below:*
1. When should year-end planning begin and why is it so important?
Year-end is an important time for both employers and employees. Proactive planning is mission critical. We recommend being as proactive as possible, with planning often starting mid-year. By the start of Q4, most, if not all, of your planning should be completed and action should be underway on your to-do list.
2. Which responsibilities should be prioritized when preparing for the end of the year?
Prioritized responsibilities vary on a company's size, industry and culture. Employers could consider conducting mid-year stay interviews or engagement surveys to better assess the needs of staff for a more effective year-end, especially for those that have a calendar year benefit plan renewal. Common priority responsibilities at year-end include: employee total rewards (compensation and benefits), HR compliance and infrastructure updates, Affordable Care Act (ACA) and payroll document preparation, and human resources information system (HRIS) technology analyses.
3. How can HR teams streamline year-end ACA compliance requirements?
The utilization of a comprehensive HRIS system that includes benefit plan management, electronic open enrollment/life event capabilities and ACA measurement period tracking is an efficient and effective way to streamline ACA compliance requirements. Employers should also review their employment classifications as defined within their employee handbooks and summary plan descriptions to accurately classify full-time employees as defined by the ACA.
4. Which payroll responsibilities should be considered during year-end planning?
Payroll is often a key function for year-end planning with many detail-oriented, yet crucial, tasks needing to be considered. Examples of responsibilities to be considered include:
Year-end bonus payouts and taxability of such payments
Taxability to staff for holiday gifts such as cash and gift cards (yes, these are always taxable to an employee)
Shareholder adjustments for auto use and employer paid benefits
Fringe benefit adjustments for group-term life in excess of $50,000
Confirm wage deductions do not exceed mandatory limits, such as Social Security tax, 401k contributions, health savings accounts and flexible spending accounts, if not already built into your human capital management (HCM) platform.
Third-party sick pay adjustments if not handled by your disability carrier
1099 and K-1 preparation
Tax adjustments for any pre-tax benefits in which a domestic partner was covered (domestic partner benefits are considered post-tax)
Notifying carriers of salary increases for certain benefit rate calculations, such as life and disability
Print the cost of employer-provided health care in Box 12DD of W-2s; this is required for employers who filed 250+ W-2s in the prior calendar year
5. Which year-end responsibilities are often overlooked by busy HR teams?
HR leaders wear a variety of hats for organizations year-round, and year-end is no different. It's important that the core HR infrastructure is not forgotten. January 1 is a popular, and recommended, time to roll out changes such as policy modifications, job description enhancements, etc. Additionally, many organizational budgets are based on a calendar year. isolved recently conducted a survey that shows 53 percent of HR leaders' budgets increased this year, with technology getting the majority of the spend – despite being overlooked historically. Ensure your HRIS is a line item in your proposed budget.
6. Which year-end tasks would be good options to outsource if HR teams don't have enough time or resources to handle internally?
HR compliance and infrastructure needs are great examples of outsourced solutions. Allowing HR leaders to remain focused on strategic initiatives, while having reassurance that an experienced HR professional is handling core compliance needs is an effective solution at year-end. Handbook updates, position description updates, even compensation analytics from industry professionals are common at year-end.
7. Are there new responsibilities that HR teams need to account for this year?
2021 has been challenging in many ways for employers and has naturally added additional responsibilities for HR leaders to be mindful of this year.
Employee Retention Credit: President Biden extended the Employee Retention Credit for qualified businesses for all quarters of 2021. The credit is worth of up to $7,000 per quarter, and up to $28,000 per year for each employee. Employers should work with their tax professional on the credit submission.
Vaccine Incentives: Employee incentives for receiving the COVID-19 vaccine is gaining popularity amongst employers. Based on the incentive time (ex. Gift card, one-time bonus, etc.) there may be taxability and payroll adjustments to be made.
Remote/Hybrid Workforces: 2021 has created a very transient workforce, which may be here to stay. Employers should check in with remote/hybrid staff and ensure they're work location and physical address are still accurate. This impacts a variety of payroll items such as W-2 and 1095-C mailing, state tax filing , state unemployment rates, workers compensation rates, minimum wage thresholds and HR compliance items.
8. Once year-end planning is complete, how should HR teams prepare for the new calendar year?
HR teams should prepare an action plan once planning is complete. HR teams should identify who/how each task will be completed and identify tasks that can be outsourced to a third party or automated by system efficiency. Assigning a priority rank to each task to ensure everything happens, in the correct order, is important for an organized year-end.
HR teams may also want to prepare for the new year by attending workshops or seminars so they are prepared of what new laws could impact them in the new year.
About Stephanie:
Stephanie Lewerke is an isolved People Services Manager and has been providing strategic leadership and consulting experience for the company since 2014. Stephanie leads a robust and knowledgeable team of HR professionals who assist isolved customers in augmenting their HR needs. Stephanie specializes in organizational operations, compliance, employee relations, generalist skills and managed payroll across a large variety of industries, including manufacturing and private medical practices. Stephanie holds a Bachelor's degree with a double emphasis in HR and Management from the University of Wisconsin-Platteville and has earned her PHR and SHRMP-CP certifications.
This blog is not legal advice. Please seek proper legal advice.
Need assistance completing your critical HR tasks? Discover how isolved People Services can help.
This article has been read 3,054 times.