Home Health Care Organization Modernizes HR with One Solution
Friday September 30th, 2022
Estimated time to read: 2 minutes, 45 seconds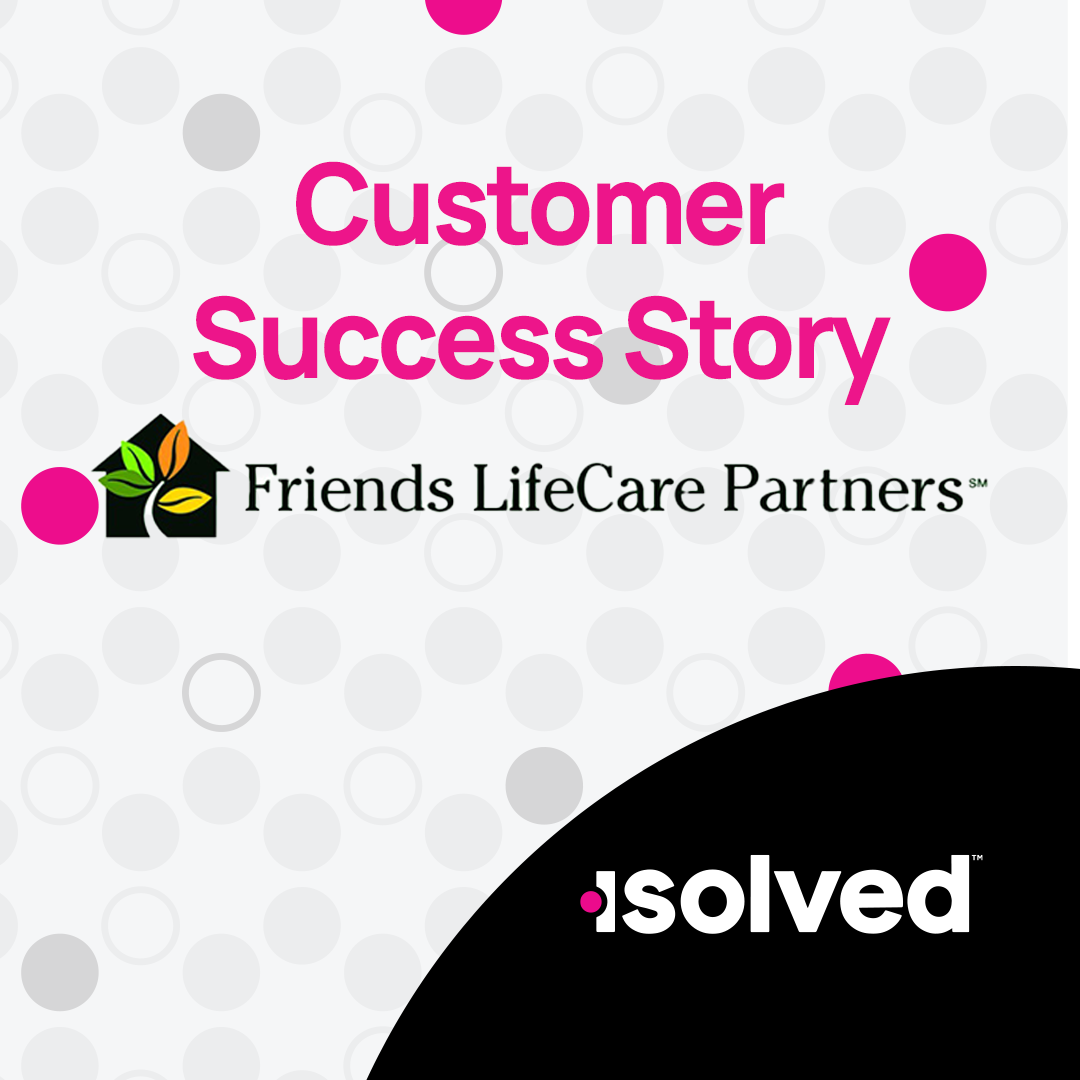 The pandemic had a tremendous effect on businesses around the globe. With people working from home and needing access to information from anywhere, it forced organizations to switch from antiquated ways of managing their business to a more modernized approach. Friends Life Care Partners (FLCP) experienced this first-hand and utilized isolved's human capital management (HCM) suite to make the transition.
FLCP offers long-term health care solutions to the aging community. By helping the elderly to age in place, they provide them the ability and freedom to enjoy their life the way they want. They do so by coordinating care for them and allowing them the option to stay home rather than move to a long-term care center.
FLCP is heavily focused on the elderly community and with over 30 full-time employees, they stay busy at their Pennsylvania-based location. While they initially came to isolved for assistance with payroll, the challenges stemming from the COVID-19 pandemic caused them to adopt many more solutions. They now intelligently connect the employee experience via Onboard & Develop (Talent Acquisition), Benefits Administration (HR & Payroll), Adaptive Employee Experience (Employee Interface), as well as Share & Perform (Talent Management).
The main challenge that isolved has been able to solve for FLCP is organizing employee records. By providing online resources for all their files, they were able to move away from the paper records they were keeping before. Not only is this a more secure way of doing business, but much less time consuming and it streamlines accessibility to records and workflow.
Payroll is a much quicker process with an estimated savings of 10 hours a month, but so are things such as requesting time off and managing employee absences. Previously, employees had to utilize a paper process to request and track time off. This was something they eagerly wanted to do away with and integrate into one intelligently connected system. Now, employees can quickly access their PTO bank and request vacation or sick time from anywhere with Adaptive Employee Experience – providing a more modern employee experience. It's estimated FLCP saves 5-10 hours per employee, per month with centralized employee records, self-service and a reduction in manual errors.
Mary Beth Quirk, FLCP's Payroll & Benefits Coordinator, continues to have a crucial role in the organization's ability to streamline processes by expanding their adoption of isolved solutions. Hear from Quick herself in this video testimonial and in the transcript below.
What's your favorite thing about isolved?
Quirk: My favorite thing about isolved would be the user-friendly approach to it. It's simple to use, especially the new Adaptive Employee Experience. It's easy to navigate the system and to be able to tell employees where they can go to find information. They can then make their own decisions and choices.
Another thing is that it has taken paper away from the stuff that we do. COVID pushed these initiatives, but they were things we wanted to do anyway. We no longer have manual onboarding, I-9s are in one nice place along with medical records.
Would you recommend isolved?
Quirk: I would recommend isolved to any small business. While isolved is there to help every step of the way, the solutions are extremely self-sufficient, which is great. You can also customize solutions to meet your needs. For the payroll function, we can categorize the exact way we need to cut down processes. Additionally, the selection of products offered is another huge reason to recommend isolved to anyone.
What are the key results you have experience since working with isolved?
Quirk: Workflow processes have been much more manageable. Being able to reduce the amount of paper we were using and effectively streamline our payroll has dramatically increased productivity and allowed us the ability to let employees access information and make informed decisions.
What is your greatest success story since working with isolved?
Quirk: Keeping accurate records of time off. It used to just be a master spreadsheet so if one number was entered incorrectly, the person's time off requests would have to be manually checked for accuracy.
What is your future vision for Friends Life Care Partners?
Quirk: An integrated system where our employees can easily access resources and answers. Having the Employee Messages page is a huge benefit to access flyers and updates in one location.
Similar to many of the other 500 HR leaders we surveyed in our Transforming Employee Experience report, Quirk wanted the organization to adapt and grow with the changing times. They needed a robust, end-to-end platform. isolved was able to exceed their expectations and continues to help FLCP grow today. They are already planning on adding Expense Management (within Workforce Management) to their platform to help manage their thriving organization.
This article has been read 1,673 times.