How Givful Moves Corporate Values Off the Wall with Purpose
Monday April 12th, 2021
Estimated time to read: 1 minute, 45 seconds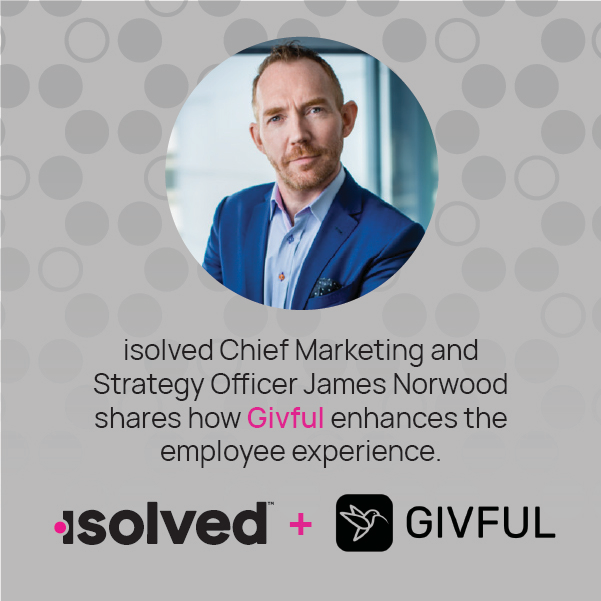 There's no shortage of words to choose from when determining your organization's corporate values – credible, confident, courteous – and no doubt leaders have the best of intentions when selecting them. Today's employee, however, wants more than promises of values or vision, they want purpose.
isolved's acquisition of Givful helps bring the words in a welcome packet and on a hallway poster to life by providing employers and employees an effective and meaningful way to demonstrate purpose by easily connecting them to giving and volunteering opportunities.
On its own, Givful offers employees a consumer-like portal to browse millions of non-profits, track personal goals, contribute directly from payroll, share activities with colleagues, view company matching funds and access a consolidated year-end tax statement.
In step, Givful provides employers donating and volunteering trend analysis, employee engagement reports, payroll integrations, automatic employee updates for life events, and automation of company matching based on pre-set maximums and approved causes.
Together with isolved, customers will benefit from a payroll giving, company matching automation and volunteer management solution fully integrated into their HCM – an offering that's unheard of for companies without tens of thousands of employees.
"There is tremendous friction when it comes to sourcing volunteering opportunities and processing payments to charitable causes," said Walker Morrow, co-founder and COO of Givful. "We've leveraged modern technology and created a user experience designed for a workforce that wants work programs to work like their favorite social or shopping app.
"Employees can easily interact with their favorite charitable causes from the workplace and employers can engage their teams in impactful ways. The combination of Givful and isolved builds a more connected, complete employee experience in a time when there's never been a greater need to bring teams together for a common purpose."
In isolved's survey of 500 HR leaders, the majority indicated that both recruiting for new talent and retaining talent would be more difficult in 2021 than in prior years. While they pointed to the remote work environment as the top reason why, respondents also noted that changing employee expectations are having an impact.
When we asked 295 full-time employees how their employers could do better, they noted employee engagement programs as the top area of improvement. The same stale annual-giving notices or always-on charity of choice won't cut it for employees who crave purpose and are used to choice, self-service, instant gratification and social sharing.
By empowering their workforce to give, volunteer and share during their time at work, employers can demonstrate that they care about their team's beliefs and values. It brings corporate values off the wall and into the everyday purpose of an organization – and not just the large ones with multi-million-dollar philanthropic endeavors, but the small- and medium-sized businesses too.
Through giving and volunteering programs, organizations will not only operationalize social good and engage the workforce they are so desperately trying to reach digitally but also put purpose into the words on the wall.
This article has been read 1,986 times.