Technical Textile Manufacturer Modernizes HR Processes
Wednesday June 22nd, 2022
Estimated time to read: 2 minutes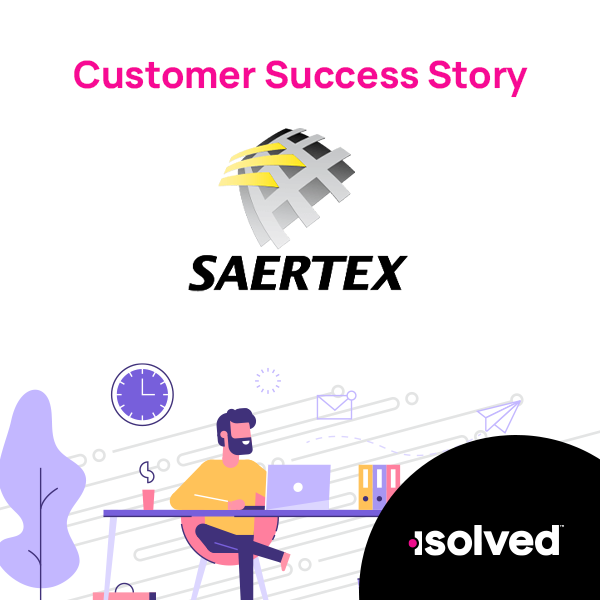 Keeping track of employee benefits and payroll with paper processes can be extremely inefficient – especially when managing a workforce made up of hundreds of employees. However, modernizing processes can also seem like a tall task, prompting concerns about how smooth the transition will be and how easily teams will adapt.
This was the case for SAERTEX USA, a technical textile manufacturer headquartered in Germany with 11 offices across the globe, including one U.S. location. SAERTEX employs approximately 200 individuals, with most of the workforce being made up of full-time and hourly employees. According to Stephanie Barrow, Director of HR, the company started looking for technology to improve efficiencies with its benefits and payroll processes.
After a thorough search, isolved ended up winning out as the partner of choice. In fact, SAERTEX began leveraging isolved People Cloud for their human capital management (HCM) needs, including solutions that intelligently connect time, payroll, hiring, onboarding, benefit enrollment/termination and predictive people analytics. This decision led to positive results, with SAERTEX not only dramatically reducing the number of hours spent on administrative tasks, but also improving data accuracy across the organization. Learn more by reading the Q&A with Stephanie Barrow below.
What were the main challenges your organization was trying to solve with HCM technology?
Barrow: We were looking to improve benefit coordination with technology. This included enrollment and termination as well as payroll deductions. Previously we were using Excel spreadsheets and an outdated payroll company that was unable to provide us with Excel reports when we made the switch to isolved. This meant we had to type in every single paystub line manually.
Why did your organization ultimately choose isolved?
Barrow: Our organization decided isolved was the best choice for a few reasons, including the intuitive user interface and the overall cost. A dedicated service representative was also another factor in our decision.
How did isolved help your team solve its challenges?
Barrow: Once we implemented isolved, all of our challenges were solved. We went from spending hours a day on administrative work, including updating multiple spreadsheets and double-checking websites, to relying on the robust system to do exactly what is was designed to do.
What are some key results you have experienced with isolved?
Barrow: Not only did we save hours of time – which increased overall productivity of our team – but we also became more organized and streamlined. Plus, we eliminated a lot of human error that was occurring previously.
Would you recommend isolved to others, and if so, why?
Barrow: The main reason we recommend isolved to others is because the technology is constantly evolving and adapting to user needs and current trends.
What is your vision for HR/employee experience at your company?
Barrow: The people experience is extremely important for our organization, especially for our workforce that does not sit in front of a computer. My vision is that one day, all of our employees will login to isolved instead of coming to HR to find the answers for their questions. I also would like our workforce to feel empowered to make their own updates within isolved, rather than coming to HR and having us redirect them to the platform. It's a culture change from having everything on paper and Excel sheets, but it is something that we are working on. And the new employee interface from isolved is helping us achieve that.
Learn more about the success SAERTEX's has experienced with isolved by reading the full case study.
This article has been read 1,592 times.