A Single Solution Yields Many Benefits for this Flourishing Health Center
Thursday May 12th, 2022
Estimated time to read: 2 minutes, 30 seconds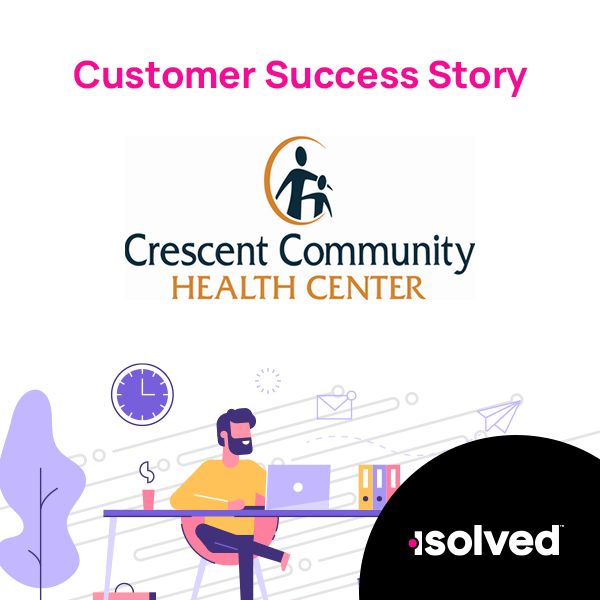 Far too often small businesses fail to see the value in leveraging HCM software for their workforce management needs. Instead, they will tolerate manual processes and inefficiencies because they believe the technology is too sophisticated or too costly, or that the transition will be too complicated. However, once deployed, they find that the benefits far outweigh the perceived inconveniences.
Crescent Community Health Center (CCHC) is one of those organizations.
CCHC is a Federally Qualified Health Center based in Dubuque, Iowa that provides medical, dental, brain health and quick care services to individuals in the 27 counties they serve, regardless of their ability to pay. The Center currently employs a staff of 122, who are primarily full-time, hourly employees.
A few years ago, CCHC experienced an increased demand for services and had to add staff quickly. Overwhelmed by the administrative burden of tracking time and running payroll for their rapidly expanding team, they searched for a solution that would automate the process and found isolved People Cloud. With a reduced administrative burden, CCHC was able to take on more strategic initiatives. This led to the implementation of more isolved products and services to help them hire, manage and develop employees, including Attract & Hire (applicant tracking), Learn & Grow (learning management), Share & Perform (engagement), Benefits Services, and People Services (HR augmentation).
Mary Kay Kirgis, who joined the team in 2020 as HR Generalist, played an important role in the organization's decision to add additional solutions. We asked Kirgis to reflect on why her organization choose isolved as their technology partner and what her team has been up to since being featured in a case study conducted by research firm 3Sixty Insights Inc.
What were the main challenges your organization was trying to solve with HCM technology?
Kirgis: We were experiencing rapid growth and struggling to get our administrative legs under us. Before isolved, we were manually adding employees' time and running payroll, and were looking for a solution that would automate the process. Also, all benefits, COBBRA processing and applicant tracking was done via paper, so filing and processing was a nightmare.
Why did your organization ultimately choose isolved?
Kirgis: We wanted to have one location for all our HCM needs and isolved provided that. We also wanted the ability to add to the system as we grow without having to add new technology. We looked at three or four different options, and isolved by far had the mix that we were looking for.
How did isolved help your team solve your challenges?
Kirgis: isolved was great. They worked with us step by step. We decided to slowly add things to our system instead of adding all at once as it was a lot to take on for a HR department of two.
What are some key results you have experienced with isolved?
Kirgis: Before isolved, we couldn't reach enough applicants with the right specialized capabilities we needed. Now the process is mostly automated, so we can easily track and hire applicants to new positions and run background checks.
We have gone paperless when it comes to onboarding and benefits enrollment.
With isolved's COBRA solution, processing takes very little if any effort, and it has helped us avoid fines and penalties related to non-compliance.
Would you recommend isolved to others and if so, why?
Kirgis: Yes! isolved provides awesome support, great products and are always looking to improve. They listen to their customers.
What is your vision for HR/employee experience at your company?
Kirgis: We are looking for full integration of HRIS, learning management and performance management to help employees keep all their information in one spot. The ability to do all three without having to log into three different platforms will be game-changing.
I'm confident that isolved will help us achieve this goal. They have provided the products we need when we need them.
Kirgis, like the 500 HR leaders surveyed in our Transforming Employee Experience report, wanted an HCM solution that was a full, end-to-end platform and could grow with her organization. isolved satisfied both expectations and continues to serve CCHC well. With Learn & Grow and Share & Perform rolling out, they are already planning on adding Scheduling to their platform to help them build and manage the schedules of their thriving team.
This article has been read 4,129 times.