Evaluating Tech Needs for 2021? isolved Recognized for Best Employee Scheduling Software
Wednesday December 23rd, 2020
Estimated time to read: 1 minute, 15 seconds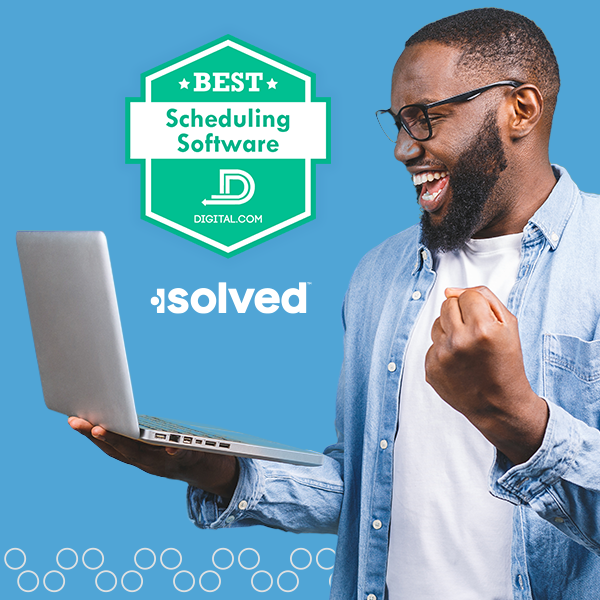 Just two months after being recognized for its payroll software, isolved has been named to Digital.com's "Best Employee Scheduling Software of 2021" list.
Digital.com reviewed more than 90 software providers, sourcing authentic user reviews from across the web and analyzing comments based on positive and negative sentiment. Each provider's employee scheduling product was also evaluated based on efficiency, integrations and reporting capabilities. isolved was awarded a spot on the coveted list due to its comprehensive offering that eliminates imports and exports between other platforms.
"Employee scheduling is becoming more important than ever, especially with an uptick in predictive scheduling laws being passed in cities and states around the country," said Kelli Rico, isolved VP of Product Marketing and Training. "Having a dependable software that automates scheduling and eliminates time wasted switching between platforms not only boosts productivity for HR teams, but also provides consistency for employees. Being named to Digital.com's Best Employee Scheduling list highlights how isolved has created an integrated platform that is transforming the future of work."
According to Digital.com, isolved's human capital management (HCM) software does it all, including employee scheduling through isolved Time. This helps businesses move away from outdated timesheets and spreadsheets with computerized scheduling. Digital.com also identified these key features offered from isolved:
• Advanced scheduling tools for shift and schedule setup
• Drag, move, copy and change time
• Daily, weekly or pay period view
• Punch collection through virtual or physical time clock or mobile app
• Punch alert errors
• Instant scheduling alerts
• Comp time management
• Geofencing locations to monitor where employees are clocking in and out
• Eliminate buddy punching and time theft
• Close payroll in minutes with the click of a button
• Sick leave and vacation tracking
• Salaried employee tracking
• Budgeting and labor forecasting
Employee scheduling will continue to be a focus for employers in 2021, with benefits of a more organized approach to scheduling helping businesses better assess and plan for coverage needs. isolved can help businesses improve scheduling processes and ensure compliance with local laws, as well as bolster other essential HR functions through isolved People Cloud. This flexible, intuitive HCM platform is built for the future of work, enabling businesses to seamlessly manage the entire HR/employee journey – from payroll and time to benefits and employee engagement.
Find out how your enterprise can benefit from isolved People Cloud by booking your demo here.
This article has been read 3,488 times.