HCM vs. HRIS: Demystifying the differences
Tuesday September 29th, 2020
Estimated time to read: 1 minute, 45 seconds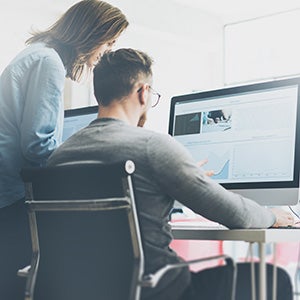 When you're putting together your HR tech stack, you'll probably find yourself wondering about the differences between a human capital management (HCM) system and a human resource information system (HRIS).
The terms are often used interchangeably, but there are some key differences to note. What are these platforms used for, and how do you know if your organization could benefit more from an HCM vs. HRIS solution?
This overview should help demystify the differences while providing some ideal use cases and guidance on which type of platform might be better based on your company's needs.
HCM vs. HRIS overview
HCM and HRIS platforms have a lot in common. They're both often cloud-based solutions with database and reporting capabilities and similar features that support human resource management. But they each have a slightly different focus.
A human resource information system is all about data. As defined by HR Technologist, an HRIS is "a software or online solution that is used for data entry, data tracking and the data management of all human resources operations of an organization."
Human capital management, on the other hand, is more broadly understood as an HR methodology. HR Technologist defines HCM as "a set of practices for human resource management with the goal of achieving organizational competency by focusing on workforce acquisition, management and optimization." In order to carry out these practices, organizations can use HCM software solutions.
Key feature differences
As the above definitions might suggest, HCM is an overarching strategy whereas an HRIS platform is used for a more narrow scope of HR activities. In many cases, an HCM suite will actually include most or all of the capabilities of an HRIS.
For example, an HRIS and an HCM solution could both offer:
Benefits administration.
Employee self-service portals.
Recruiting tools like applicant tracking.
Absence tracking.
Compensation management.
Reporting capabilities.
Employee data management.
However, an HRIS wouldn't cover several functionalities that are common to HCM platforms, such as:
Performance tracking.
Position control.
Advanced analytics.
HR services and resources.
Payroll processing.
Time and labor management.
It's clear that there is plenty of overlap, but in general, an HCM solution will be more comprehensive and reach across a broader scope of human resources activities.
Deciding between HCM vs. HRIS
If your organization is starting to explore its options, it will be important to get all stakeholders on the same page with regard to what each decision-maker is looking for. For instance, since the terms are often used interchangeably, someone on the team might say they're looking for an HRIS when really they require an HCM system that can accommodate more processes. Discussing the specific features and capabilities you're looking for can point you in the right direction.
If you're looking for a more basic system that can support HR data management activities, an HRIS might be just what you need. However, if your organization could use a more robust all-in-one software solution, a customizable HCM platform could be tailored to your specific needs. With an HCM suite in place, you can add new features and continue optimizing HR processes until you've landed on the perfect system that meets your every need.
This article has been read 122 times.