Should companies keep remote work after the pandemic?
Tuesday June 23rd, 2020
Estimated time to read: 1 minute, 45 seconds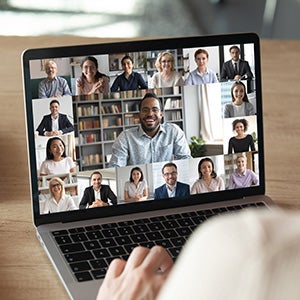 Extract: After the pandemic is over, businesses will have to determine how to return to the office. For some, the question might be if doing so is necessary.
As states began issuing stay-at-home orders, many companies shifted to a remote work model.
Telecommuting has been around since the '70s and has slowly caught on over the years. As of 2018, 29% of workers could work from home, and one-quarter did so occasionally, according to the Bureau of Labor Statistics.
The pandemic accelerated the acceptance of remote work arrangements. As we head toward a post-pandemic world, businesses will once again face a big question about work arrangements: Should companies keep remote work options after the danger is over?
Lower risk to employees
Not all people can work remotely. A cashier's job can only be carried out in person, for example. This means that, as states begin easing restrictions and businesses begin opening back up, there are some employees who must return to work in person.
Allowing employees who can do their jobs from home to do so may minimize interactions between people throughout a community. This is one of the reasons some of the biggest tech companies have announced they'll maintain their work-from-home policies for some time, The Washington Post reported.
"What we recognize is that economies are going to need to be opened gradually by turning a dial rather than flipping a switch," Twitter President Brad Smith said, according to The Washington Post. "… I think we have a responsibility not only to adhere to the public health guidelines, but to be slower than others in bringing people back simply because we can."
Higher productivity and engagement
As people adjust to the sudden change in atmosphere, it's not always easy to be productive. However, numerous studies have shown that work-from-home arrangements can support productivity, as well as morale.
As people adjust to the work-from-home life, some have found it to be beneficial. A CNBC/Change Research survey found that 60% said they've been as productive or more so since working from home. And, with no commute, 47% said they spend more time with their families.
Reduce office costs
After the pandemic is over, many businesses will continue to search for ways to keep costs low. Cutting office expenses could be one of the simplest ways to do so, The Atlantic pointed out.
Reducing office space by canceling or choosing not to renew leases can save money. Empty offices don't need lights or climate control, which means further savings on utilities.
Ultimately, the decision to maintain remote work policies after the pandemic is over will depend on each employer's situation. However, there are clear benefits to permitting employees to work from their homes, even if it's just some of the time.
Maintaining employee connections
One aspect of in-office work that many employees are missing is the interactions they have with their team members and co-workers. If your company does choose to keep employees remote for the foreseeable future and continue to offer this setup as an option, you may want to look into ways for teams to connect and collaborate.
An employee-centric platform, such as iSolved with Mojo, is designed to keep employees connected and in sync, no matter where they're located.
This article has been read 3,253 times.