The Right Way for Scaling Company Culture As You Grow
Tuesday May 7th, 2019
Estimated time to read: 2 minutes, 45 seconds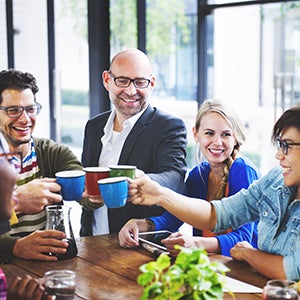 Workplace culture has never been more important. It drives your employee engagement, retention and success. And it ultimately determines how your customers will receive you.
But as companies grow, how can they ensure their culture continues to advance in positive directions?
A recent Inc. article, titled "How to Create a Tight-Knit Company Culture That Can Scale With Your Business," explores how some companies did this successfully.
Perhaps unsurprisingly, one crucial element is simply happiness. Needless to say, when people are truly happy they will be more productive and engaged – not only in dealing with their fellow employees but also as they reach outside the company to interact with customers and prospective clients.
Of course, it's not as simple as just telling everyone to be happy. And a company culture that promotes happiness is not as simple as finding space for ping-pong tables or nap pods. It's your core values that define your culture. Defining your core values and purposes – and making sure they are embraced by long-time employees and taught effectively to new ones – will help such a culture thrive.
It means everyone speaking the language of your culture and operating on a daily basis according to the company's values, because they are understood and emphasized regularly.
If you haven't defined your culture, this is the first step. It's crucial to do this before you start experiencing rapid growth. Because if you do it effectively before you grow rapidly, it will be much easier to introduce that same culture into new locations and new divisions.
So how do you establish your culture in a way that it will scale with you as you grow? Four steps are crucial:
Define the culture you want
Make an action plan
Create a culture team
Embrace subcultures
You may have a stellar corporate culture, or at least you have a vision of what you want that culture to be for your organization. Now is the time to put some definition to it. That would include your company's values and purpose, as well as what defines your brand's voice and personality.
Fun and popular amenities, or even generous perks, are fine. But they stem from the company's values and purpose.
The second step is to create an action plan with both short- and long-term steps. This plan should address challenges to your culture, and outline projects that can solidify the culture you want. It should assign responsibilities for who will lead and complete these tasks, and milestones that will define progress and success.
Taking each stage of the culture one-by-one is the best way to shape it.
Step three is to create a culture team. This cannot consist solely of people from the HR department, nor should it be done exclusively at the executive level. In order for the culture to really thrive, you will need a culture leader at every level, and in each department.
The truth is that every department probably already has people who drive that department's culture just by their nature, so it's important to identify those people and get them on board. Bringing that group of people together and getting them all going in the same direction is crucial. As you train and develop each leader to facilitate and implement the culture you want, you will find that it becomes far more cohesive throughout the organization.
Within the culture team, people will play different roles. Some will be ambassadors who lead the way, while others will facilitate – training fellow employees on how to bring the culture to life. But nothing is more important than ensuring it comes from every level rather than just from the top, because that is how it becomes co-owned and successfully integrated into the life of your company.
That is how your corporate culture thrives.
Finally we come to the fourth step, which is the embrace of subcultures. As you grow, you need to recognize that while your company culture is consistent from place to place, it's only natural that each location will have its own distinctive subculture – its own unique flavor that still reflects the larger corporate culture.
This is not something to resist. It's natural and it reflects the different orientations of different local cultures. As long as it aligns with the main corporate culture, different local subcultures help ensure that the workplace feels real and authentic, and that people can be who they are.
Instilling your company's culture will take some time, and you will have challenges along the way – although if you take the approach outlined here, you should have many more wins. Being intentional about how you scale your culture will help ensure your employees' happiness and your ultimate business success.
And remember: Without staying true to a plan you set in stone, you could lose sight of where your corporate culture is going. Stay on top of it and you have a real shot at greatness.
This article has been read 2,972 times.